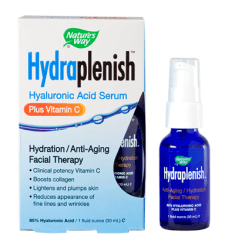 Hydraplenish Serum + Vitamin C Pump 30ml
Nature's Way Herbal - Hydraplenish Serum + Vitamin C Pump 30ml
Hydraplenish Serum with vitamin C contains hyaluronic acid which absorbs more than 1,000 times its weight in water, when topically applied Hydraplenish creates a barrier, helping to keep moisture in and external irritants out, enhancing hydration for a visible reduction in lines and dryness. Its unique stabilised vitamin C helps to visibly brighten the complexion and reduce the size and intensity of skin blotches, whilst boosting collagen synthesis to support the firmness of facial contours. The hyaluronic acid and Vitamin C content are complemented by herbs traditionally used topically for their skin- nourishing effects. Echinacea purpurea that has been shown clinically to promote wound healing and have skin protective effects. It has also been shown to reduce the activity of hyaluronidase, the enzyme that breaks down hyaluronic acid, and also acts as a useful protectant from sun damage. The Alfalfa Leaf and gotu kola are traditionally known as 'skin healing' herbs, whilst gotu kola may help improve extensibility and firmness of the skin. Nature's Way® Hydraplenish Serum is free from animal testing or animal byproducts, dioxanes, parabens, phthalates and petroleum products.
Usage:
Hydraplenish Plus vitamin C helps with smooth, even-looking skin, helps reduce the appearance of lines wrinkles and skin pigmentation whilst reducing irritation and increasing hydration.
Active Ingredients: Sodium hyluronate (65% hyaluronic acid), water, SD alcohol 38-B (organic lavender alcohol)*, sodium ascorbyl phosphate (hydraplenish CTM Stabilised vitamin C), Echinacea purpurea root extract, Medicago sativa (Alfalfa) leaf extract, Centella asiatica (Gotu kola) extract, sodium PCA, citric acid.
Dosage: Mornings and evenings apply a small amount to face and neck after cleansing before moisturising. Serum can also be used anytime over makeup when skin feels tight and dry. For extra-intense hydration or in dry climates, reactivate the serum by lightly misting face with purified water throughout the day.