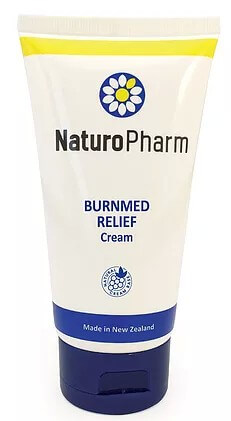 Burnmed 100g
Burnmed Relief stimulates healing of the skin following burns, scalds and sunburn. Has soothing properties. 
The cream is moisturising and promotes healthy skin.
The gel has a useful emollient effect on the skin and does not stain clothing. 

Dosage:
Apply liberally to affected area 3 or 4 times a day as required.

Ingredients:

Burnmed Relief Topicals contains the herbal tinctures of Calendula, Hypericum, Symphytum, Urtica Urens and Homoeopathic potency of Cantharis 6x in a natural grapeseed-oil cream base or a natural algae-derived gel base.
​
Suggested Companion Products and Advice:

Soothing when applied to sun burnt skin.
​Submerge part in cool running water. Seek medical advice if burns are serious.
​Use with Burnmed oral spray for enhanced results.
If symptoms persist, come into the health shop for a chat and for me to check your skin or phone and make an appointment and see me as a naturopath in my clinic.
Phone: 094264455