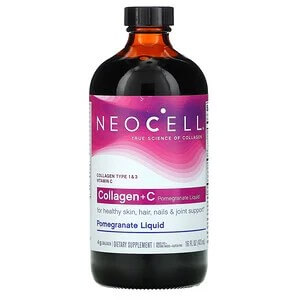 Collagen + C Pomegranate 473ml
As we get older, our body's collagen gets depleted, which can lead to many common signs of aging. So now is the time to turn your inner strength into outer beauty. Formulated with small bioavailable collagen peptides, our Collagen + C Pomegranate Liquid can do just that. It supports collagen formation for beautiful skin, healthy nails, hair and joint support. And Collagen + C Pomegranate Liquid has pomegranate, green tea, cranberry and elderberry, and provides the antioxidant benefits of Vitamin C. Science for the win.
Suggested Use
Awaken your inner beauty with our delicious pomegranate liquid.  You can take one (1) tablespoon alone or mix it into six (6) fl.oz. of water or juice.
Refrigerate after opening.
Other Ingredients:
Purified water, organic cane sugar, citric acid, natural flavors, potassium sorbate (to protect freshness), and stevia leaf extract.
Contains no: soy, wheat, lactose, starch  or artificial flavors. Gluten free.

May contain: trace amounts of naturally occurring sulphite residue.

This product does not contain common GE genes or proteins.