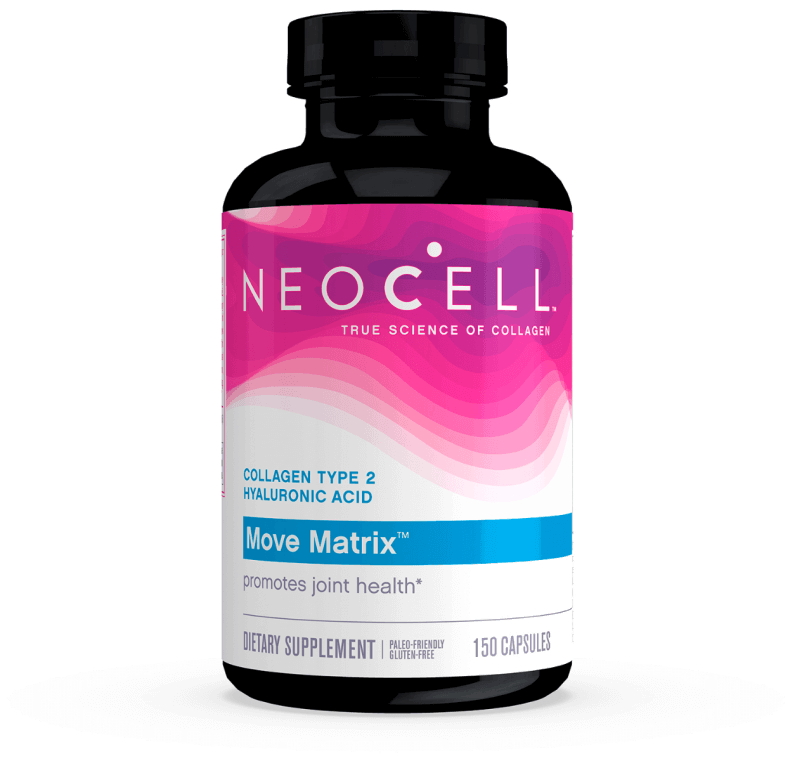 Move Matrix 150 caps
Power up your joints with Move Matrix.
Benefits: Joint Health. Collagen Type 2 is the key structural protein of joint cartilage.
Ingredients: Collagen Type 2 + Hyaluronic Acid.

Move Matrix™ is an Advanced Joint Hydrator that provides scientifically advanced ingredients that work synergistically in the body to support healthy joints.   Ideal for customers who want support for overall joint health and comfort. Provides the nutrients for joint repair and rebuilding as well as provides potent antioxidant support.  
Move Matrix™ contains:   BioActive Neocell Collagen™ Type 2: The key structural protein of joint cartilage.   Hyaluronic Acid: 'Natures moisturiser' which controls tissue hydration and water transport in the body. When combined with glucosamine and chondroitin they form a gel-like substance that aids free movement and provides cushioning of the joint.   Glucosamine, Chondroitin and MSM: This combination provides the building blocks that contribute to the formation of healthy connective tissue.   Move Matrix™ Blend: Contains a mix of herbal extracts and antioxidants.  
Active Ingredients:  Every 5 Capsules Contain: 
  Vitamin C (Ascorbic Acid) 60mg Collagen Type 2 750mg Glucosamine (as Glucosamine Sulfate) 700mg MSM (Methyl Sulfonyl Methane) 500mg Chondroitin (as Chondroitin Sulfate from Bovine) 400mg Hyaluronic Acid 100mg Move Matrix™ Blend 355mg    Curcumin C3 Complex® Turmeric Root Extract 200mg       (Curcuma  longa) 95% curcuminoids    Ginger Root Powder 50mg       (Zingiber officinale)    Boswellia Extract 50mg       (Boswellia serrata gum resin)    Resveratrol 25mg       (Polygonum cuspidatrum root)    Pine Bark Extract 25mg       (Pinus massoniana)    BioPerine® Black Pepper Extract 5mg       (Piper nigrum fruit)   Also contains: vegetable magnesium stearate, silica, and gelatin capsule. Does not contain: soy, wheat, lactose, starch, yeast, GMOs, or artificial flavours. Gluten-free.  
Dosage: Adults: 5 capsules daily.

Warnings:
May be contra-indicated with blood-thinning medications and gastric ulcers.