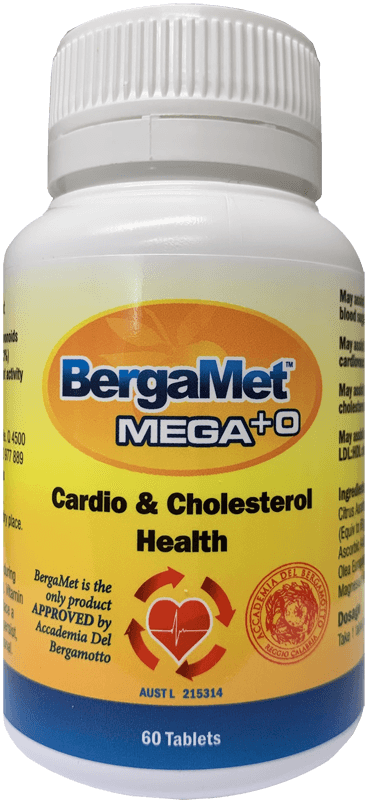 BergaMet MEGA+O 60 tabs
What is BergaMet Mega+O?
Assists Cardiovascular and Cholesterol Health A powerful, natural cholesterol lowering supplement containing citrus bergamot. Contains a unique profile of natural antioxidants acting on serum cholesterol, triglycerides and glucose. Studies show dramatic results in lowering cholesterol and positively affecting metabolic syndrome. BergaMet+O contains strong antioxidant bioflavonoids which affect cholesterol metabolism and metabolic syndrome at a number of levels including reduced absorption of cholesterol in the gut and decreased cholesterol production in the liver. It has a direct effect on the energy receptors on cell membranes, aiding the entry of sugar into the cells and improving general metabolism. BergaMet effectively addresses all components of metabolic syndrome, helping to normalise metabolic imbalance in obese and diabetic patients. Research shows that BergaMet Mega+O improves liver structure and function in patients with non-alcoholic fatty liver disease. BergaMet also contains Olea Europea leaf (Olive Leaf) which helps bergamot extract to better reduce body weight, protect cardiovascular system and improve liver function in patients with metabolic syndrome and diabetes. Safe, 100% natural. Can be taken alongside statins.
Ingredients (per one capsule)
Bergamot +O
Citrus Aurantium Fruit Juice Extract (Bergamot 40%) 600mg, Equivalent to 60 grams of Fresh Juice, Ascorbic Acid 50mg, Olea Europea leaf extract 100mg, equivalent to 1.2 grams dry leaf, Magnesium (as amino acid chelate) 50mg.
Suggested Use:
Take 1 tablet twice a day, 20 minutes before the two main meals.
For optimum effect, it is important to take BergaMet Mega+O before meals. Please Note: If you have very low blood sugar levels in the morning, you may find that due to BergaMet's powerful effect, if you take your first dose before breakfast, your blood sugar level may drop even lower and hence produce a sick feeling. If this happens, change your 1st dose to 1/2 an hour before lunch and your 2nd dose, before dinner.