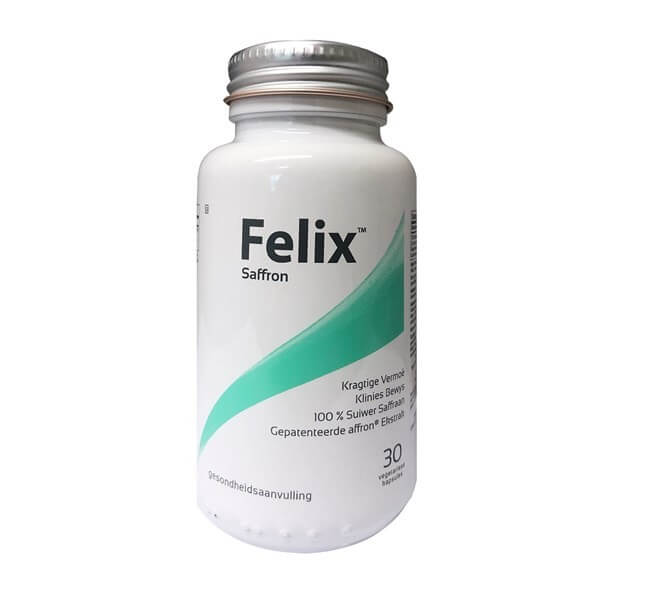 Felix Saffron 30 & 60caps (Coyne)
FELIX® is a feel-good supplement with a highly specialised saffron extract made from the saffron crocus.
Saffron is well known for its culinary gift as a spice. However, it has also traditionally been used as a medicine in ancient Persia for centuries to help enhance mood, relieve stress and as an aphrodisiac.
Modern science through clinical studies has now confirmed saffron's ability to enhance mood, alleviate appetite and boost libido in both men and women.
Features:
Supports a positive, healthy mood
Helps relieve stress and mood swings
GMO free
Gluten free
Sugar free
Wheat and gluten free
Soya free
GMP certified
FELIX® BENEFITS:
Clinically proven efficacy
Utilising superior saffron extract – Affron®
Can be used on its own or in combination with other medication
Works quickly and effectively
Safe with no reported side effects
Directions
Suggested Use: Take 1 capsule with food in the morning and night, or as recommended by a healthcare practitioner.
Indications: May help support a healthy mood balance.
Warnings: If you are taking anti-hypertensive medication or have any bleeding disorder, consult your healthcare professional before using Felix®. Not recommended for use with Warfarin or during pregnancy or breastfeeding. Use within 90 days of opening. Store in a cool, dry environment and avoid exposure to light. Keep out of reach of children.
Disclaimer: Neither this product nor the contents thereof are intended as a cure for any disease or condition. Always consult a licensed healthcare practitioner before using any new product.
Storage: Store at or below 25°C. Keep in an outer container until required for use. Protect from moisture. Keep out of reach of children.
Coyne Felix Saffron 30 Caps
Serving Size: 1 Capsule
Servings Per Container: 30
Amount Per Serving
100% Pure affron® saffron extract
30mg
Using stigma, providing 3% crocin, 2% safranil
Other Ingredients
Vegetable cellulose (capsule), microcrystalline cellulose, vegetable stearate, silica.
Allergen Advice: Contains no know allergens, no artificial flavours or preservatives.