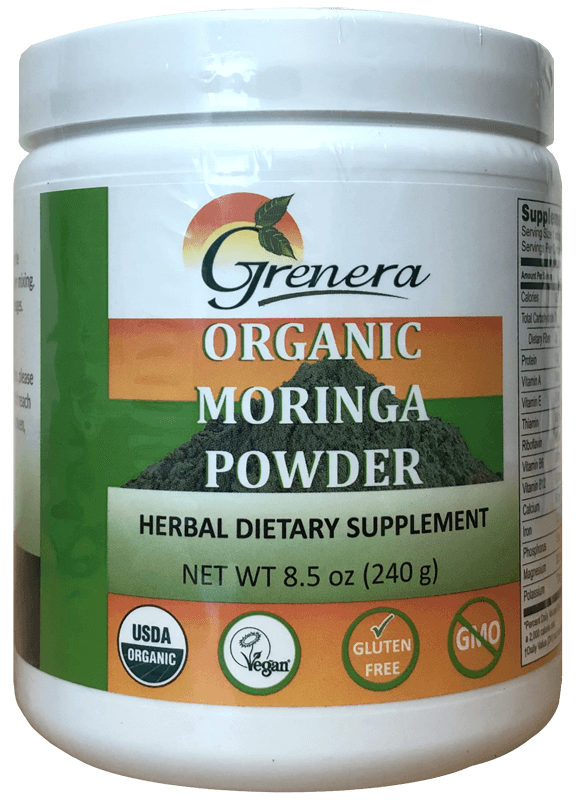 Moringa Leaf Powder Organic 240g (Grenera)
The Ultimate Super Food:
14 x more calcium than milk*
2 x more Vitamin A than carrots*
4 x more fibre than oats*
4 x more potassium than bananas*
9 x more iron than spinach*
Moringa powder is made by grinding the dehydrated Moringa leaves. Moringa leaves are the most nutrient rich parts of the Moringa plant. Moringa leaf powder contains 90 nutrients and 46 antioxidants. Moringa leaf powder is one of the richest source of natural Iron and calcium. Moringa powder is considered a natural multivitamin supplement.
The Moringa leaf powder is traditionally used. Our Moringa dry leaf fine powder has a fine grain size and Moringa powder can be added to milk, soup, tea, sauce and other food items.
Our Moringa leaf powder is hygienically prepared and packed. The powder made from fresh Moringa leaves seems to provide a long-lasting energy boost when used regularly.We are the leading Moringa Leaf Powder Suppliers in the world.
We offer 100% pure and organic Moringa leaf Powder. Fresh Moringa leaves are collected from the Moringa tree. And it is dried in a low temperature. The dried Moringa leaves are grind into Powder form. The Moringa Leaf Powder is used in a wide range of products from the dietary supplements to the smoothie mixes. The Moringa leaves are carefully washed; shadow dried under suitable atmospheric conditions and then powdered. Heat is not applied in any stage of the processing and thus the nutrient values of the leaf are retained.
Powerful antioxidant: Moringa has approximately 46 antioxidants,and is one of the richest sources of natural antioxidants
High in vitamins, minerals and phytonutrients
Contains all 8 essential amino acids and 10 non-essential amino acids
High in chlorophyll
Supports energy levels
Support for athletes: Moringa with its amino acid profile, high vitamins and minerals, helps to regain energy after workouts and physical strain.
Support for anti-ageing: The anti-oxidants in Moringa help reduce free radicals, while the numerous proteins promote the regrowth of new cells. Additionally, the vitamin A it contains assists in the production of collagen and elastin, helping firm skin.
Support for breastfeeding: Moringa provides a nutrient dense food which research shows may help breast milk production.
Helps support mood and relief stress: Naturally contains tryptophan, an amino acid required for serotonin production.

Containing more than 90 nutrients and 46 antioxidants, these vivid green leaves are nature's super-power food. The leaves are rich in vitamins A, B, C, D, K; calcium, niacin, thiamin, iron, magnesium, potassium, protein and fibre.
100% Moringa Powder
Suggested Use:
Add one scoop of Moringa Powder to your favourite beverage or smoothie and shake well for proper mixing. Moringa Powder tastes better with cold beverages.