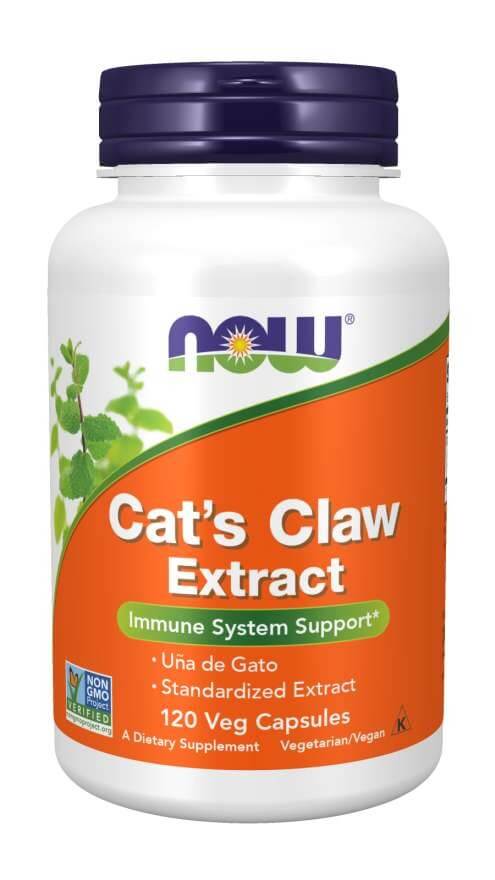 Cat's Claw Extract 60 vegecaps Now
Uña de Gato
Standardized Extract
NOW® Cat's Claw Extract has the highest quality bark of authentic Uncaria tomentosa, an exciting herbal discovery from the Peruvian rainforest. It has been used for hundreds of years by the native Ashanica Indians. Cat's claw, also known as the "life-giving vine of Peru," "saventaro," or "uña de gato," is a thick woody vine indigenous to the Amazon rain forest and other tropical areas of South and Central America. It has been revered by native herbalists of the region for over 2000 years and is valued for its many uses. Modern scientific research has determined that its characteristic alkaloids are responsible for its biological activities.
Cat's claw root and bark contain chemicals that might stimulate the immune system, and fight viruses. People use cat's claw for osteoarthritis, rheumatoid arthritis (RA), viral infections, and other conditions.
Natural color variation may occur in this product.
Natural color variation may occur in this product.
Take 1 capsule 1 to 2 times daily, preferably with food.
Store in a cool, dry place after opening.
Caution:
For adults only. Not recommended for pregnant/nursing women. Consult physician if taking medication or have a medical condition. Keep out of reach of children.
If symptoms persist, come into the health shop for a chat or phone and make an appointment and see me as a naturopath in my clinic.
Phone: 094264455