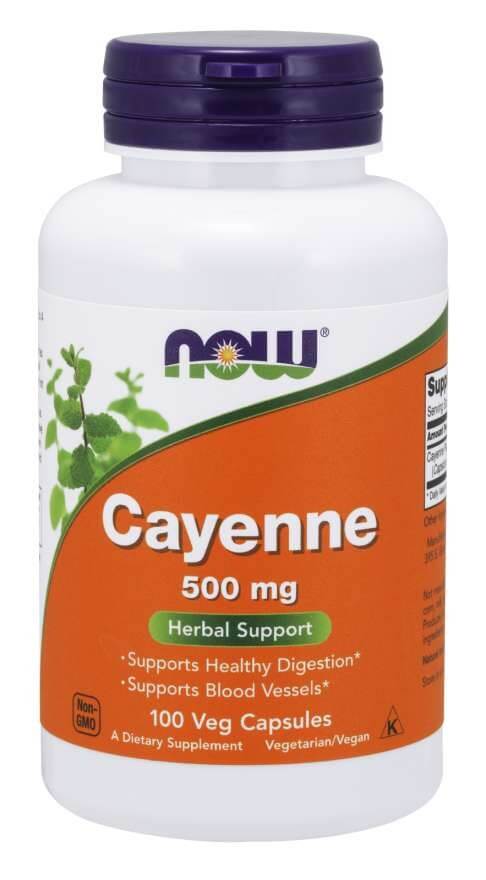 Cayenne 500mg 100 vegecaps Now
Supports Healthy Digestion
Supports Blood Vessels
Helps improve circulation
May help support healthy cholesterol levels
Supports pain relief
Cayenne pepper (Capsicum annuum) has been used as a food and by traditional herbalists for thousands of years. The hot and spicy taste of cayenne pepper is primarily due to a component known as capsaicin. Modern scientific studies have indicated that consumption of cayenne may help to support cardiovascular and digestive functions.
Cayenne pepper's benefits are numerous; cayenne may help to pomote digestion via influencing the flow of digestive secretions, improve circulation, lower cholesterol and blood fat levels. Cayenne promotes perspiration – a natural cooling mechanism of the body. Capsaicin is the active constituent in cayenne that affects physiological pathways involved in the perception of temperature and pain by interacting with sensory neurons. Capsaicin first activates the pain receptors, but upon repeated application to the skin it desensitizes these receptors and temporarily relieves the pain. Research also indicates Cayenne may be an effective remedy for headaches. The pepper also contains Vitamin C, E, B6, potassium, providing antioxidant properties
Natural color variation may occur in this product.
Take 1 capsule 2 to 4 times daily, preferably after eating.
Store in a cool, dry place after opening.
Caution:
For adults only. Consult physician if pregnant/nursing, taking medication, or have a medical condition. Keep out of reach of children.
If symptoms persist, come into the health shop for a chat or phone and make an appointment and see me as a naturopath in my clinic.
Phone: 094264455