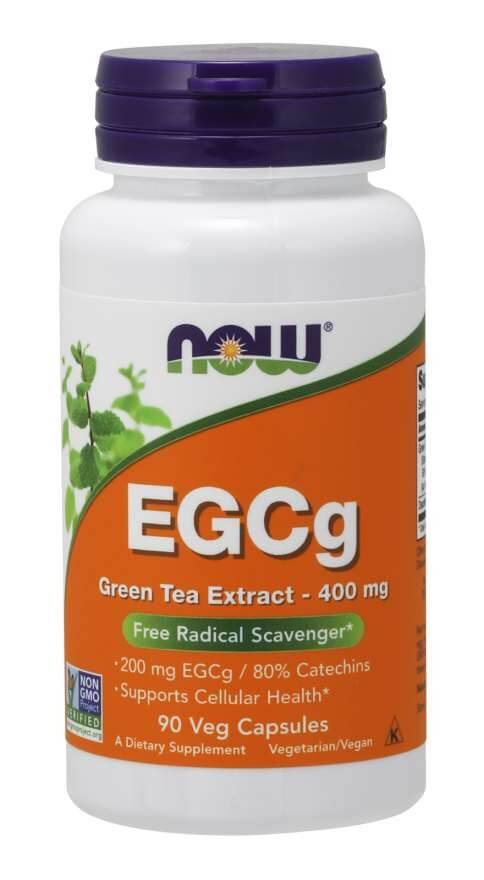 EGCg Green Tea Extract 400mg 90 vegecaps
200 mg EGCg / 80% Catechins
Supports Cellular Health*
One capsule of NOW® Green Tea Extract with 200 mg EGCg possesses the phytonutrient content equal to about 2-3 cups of green tea. Green tea's bioactive compounds include polyphenols and catechins, which are known to exhibit potent free radical neutralizing properties.* Its most abundant catechin, EGCg has been scientifically demonstrated to assist in maintaining healthy tissues in the face of normal metabolic stress and to support proper cell cycle regulation.* 
Natural color variation may occur in this product.
Take 1 capsule daily with a meal. Do not take this product on an empty stomach; do not exceed recommended dose.
Store in a cool, dry place after opening.
For adults only. Take with food. Consult physician if pregnant/nursing, taking medication, or have a medical condition including liver impairment. Keep out of reach of children.
Green Tea Extract (Camellia sinensis) (Leaf
(Standardized Extract) [min. 80% Total Catechins and
   50% EGCg (Epigallocatechin Gallate) (200 mg)] 400mg
(up to 4 mg of naturally occurring caffeine)


Decaffeinated Green Tea (Camellia sinensis) (Leaf) 50mg