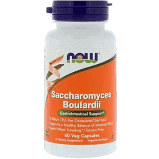 NOW Saccharomyces Boulardii - Gastrointestinal Support Veg Capsules 60
NOW Saccharomyces Boulardii - Gastrointestinal Support Veg Capsules 60


What is Saccharomyces Boulardii ?
Saccharomyces boulardii is a probiotic yeast that survives stomach acid and colonizes the intestinal tract. It promotes the health of the intestinal tract, helps to encourage a healthy gut flora balance, and supports a balanced intestinal response to normal internal and environmental stressors.  Saccharomyces boulardii has also been shown to support proper gastrointestinal function during temporary disruptions to the normal balance of gut flora. 
Benefits:
For Occasional Diarrhoea
Supports a Healthy Balance of Intestinal Flora
Useful When Traveling
Support:

S. boulardii may help treat and prevent a number of gastrointestinal (GI) problems, including a few different forms of diarrhoea. Antibiotics prescribed for a bacterial infection in a different part of the body can disrupt the ''good bacteria'' in your gut, flushing them out of your system along with the ''bad'' ones. Usually, the diarrhoea stops after a few days, but it can lead to colitis or Clostridium difficile (C. difficile) colitis, which requires hospitalization. Studies show that taking S. boulardii alongside antibiotics can reduce the possibility of getting diarrhoea.  
Active Ingredients:Ingredients (per 2 veg capsules) :
Saccharomyces boulardii 10 Billion CFU (Saccharomyces cerevisiae var. Boulardii I-3799)

Dosage:Take 1-2 capsules 2 to 3 times daily between meals as needed. This product is stable at room temperature. May be refrigerated to preserve freshness.

Warnings:Consult physician if pregnant/nursing, taking medication (especially immune-suppressing drugs), or have a medical condition (especially if immune system is compromised). Keep out of reach of children.



If symptoms persist, come into the health shop for a chat or phone and make an appointment and see me as a naturopath in my clinic.
Phone: 094264455