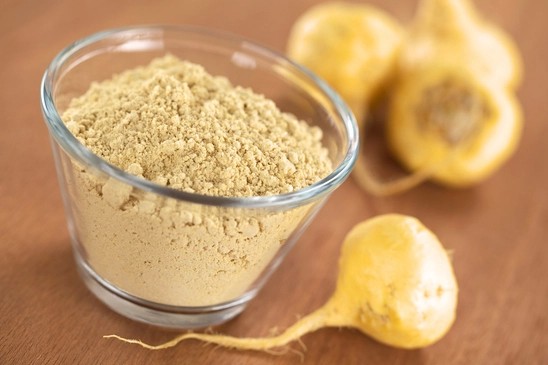 Maca Root Powder 100g
The maca plant has exploded in popularity in recent years.
It's actually a plant native to Peru.
Maca root has traditionally been used to enhance fertility and sex drive.
It's also claimed to improve energy and stamina.
The maca plant, known scientifically as Lepidium meyenii, is sometimes referred to as Peruvian ginseng.
It mainly grows in the Andes of central Peru, in harsh conditions and at very high altitudes — above 13,000 feet (4,000 meters).
Maca is a cruciferous vegetable and therefore related to broccoli, cauliflower, cabbage and kale. It has a long history of culinary and medicinal use in Peru.
The main edible part of the plant is the root, which grows underground. It exists in several colors, ranging from white to black.
Maca root is generally dried and consumed in powder form.
The taste of maca root powder, which some people dislike, has been described as earthy and nutty. Many people add it to their smoothies, oatmeal and sweet treats.
Maca root powder is very nutritious, and is a great source of several important vitamins and minerals.
One ounce (28 grams) of maca root powder contains:
Calories: 91
Carbs: 20 grams
Protein: 4 grams
Fiber: 2 grams
Fat: 1 gram
Vitamin C: 133% of the RDI
Copper: 85% of the RDI
Iron: 23% of the RDI
Potassium: 16% of the RDI
Vitamin B6: 15% of the RDI
Manganese: 10% of the RDI
Maca root is a good source of carbs, is low in fat and contains a fair amount of fibre. It's also high in some essential vitamins and minerals, such as vitamin C, copper and iron.
Furthermore, it contains various plant compounds, including glucosinolates and polyphenols.