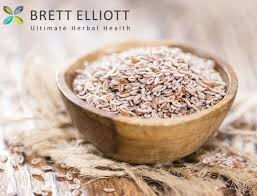 Psyllium Husks, Coarse 250g
Psyllium is a form of fibre made from the husks of the Plantago ovata plant's seeds. It sometimes goes by the name ispaghula.
Psyllium husk is an edible soluble fibre and prebiotic, perhaps best known for its colon cleansing abilities. Often referred to as a bulking fibre, psyllium is able to hold up to to 16 times its dry volume in water!
Once ingested, it expands, forming a gel-like mass by drawing water in from the colon. It then promotes easy, healthy elimination by sweeping waste out of the colon more quickly and efficiently.
In comparison to over the counter chemical laxatives psyllium husk is 'non habit forming' with no known side effects. Studies have also shown that psyllium is safe, well-tolerated and improves glycemic control for people with diabetes. Your body is going to tell you if you are overdoing it on psyllium. You'd usually start to feel pretty bloated. And if you are taking psyllium, make sure you're drinking loads of water!
Since the fibre in psyllium husk absorbs loads of water, make sure to drink enough water when taking psyllium husk so your digestive tract is optimally hydrated. Just add 1 tablespoon of psyllium husk to a glass of water, coconut water or juice. Bulk up the nutritional content of your smoothies by adding in a tablespoon of psyllium. You won't even notice it in there but your body will thank you for it.
Psyllium husk is also an inexpensive binding agent. Just a half teaspoon of psyllium husk per serving is going to be enough to thicken your favourite recipes.