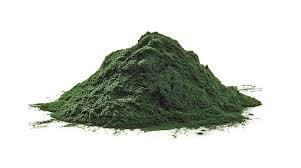 Spirulina, Organic 100g & 200g
Spirulina is an organism that grows in both fresh and salt water.
It is a type of cyanobacteria, which is a family of single-celled microbes that are often referred to as blue-green algae.
Just like plants, cyanobacteria can produce energy from sunlight via a process called photosynthesis.
Spirulina was consumed by the ancient Aztecs but became popular again when NASA proposed that it could be grown in space for use by astronauts.
A standard daily dose of spirulina is 1–3 grams.
This tiny alga is packed with nutrients. A single tablespoon (7 grams) of dried spirulina powder contains:
Protein: 4 grams
Vitamin B1 (thiamine): 11% of the RDA
Vitamin B2 (riboflavin): 15% of the RDA
Vitamin B3 (niacin): 4% of the RDA
Copper: 21% of the RDA
Iron: 11% of the RDA
It also contains decent amounts of magnesium, potassium and manganese and small amounts of almost every other nutrient that you need.
In addition, the same amount holds only 20 calories and 1.7 grams of digestible carbs.
Gram for gram, spirulina may be the single most nutritious food on the planet.
A tablespoon (7 grams) of spirulina provides a small amount of fat — around 1 gram — including both Omega-3 and Omega-6 fatty acids in an approximately 1.5–1.0 ratio.
The quality of the protein in spirulina is considered excellent — comparable to eggs. It gives all the essential amino acids that you need.
Spirulina is a fantastic source of antioxidants, which can protect against oxidative damage.
Studies indicate that spirulina can lower triglycerides and "bad" LDL cholesterol and may simultaneously raise "good" HDL cholesterol.
Spirulina may have anti-cancer properties and appears especially effective against a type of precancerous lesion of the mouth called OSMF.
A higher dose of spirulina may lead to lower blood pressure levels, a major risk factor for many diseases.
Spirulina supplements are very effective against allergic rhinitis, reducing various symptoms.
Spirulina may provide multiple exercise benefits, including enhanced endurance and increased muscle strength.
Some evidence suggests that spirulina may benefit people with type 2 diabetes, significantly reducing fasting blood sugar levels.