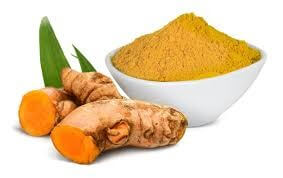 Turmeric Powder 100g
Turmeric is a flowering plant, Curcuma longa of the ginger family, the roots of which are used in cooking. The plant is native to the Indian subcontinent and Southeast Asia, that requires temperatures between 20 and 30 °C (68 and 86 °F) and a considerable amount of annual rainfall to thrive. Plants are gathered each year for their rhizomes.
Turmeric is the spice that gives curry its yellow color.
It has been used in India for thousands of years as a spice and medicinal herb.
Recently, science has started to back up what Indians have known for a long time — it really does contain compounds with medicinal properties.
These compounds are called curcuminoids, the most important of which is curcumin.
Curcumin is the main active ingredient in turmeric. It has powerful anti-inflammatory effects and is a very strong antioxidant.
Curcumin is also fat soluble, so it may be a good idea to take it with a fatty meal.
Chronic inflammation contributes to many common Western diseases. Curcumin can suppress many molecules known to play major roles in inflammation.
Curcumin has powerful antioxidant effects. It neutralizes free radicals on its own but also stimulates your body's own antioxidant enzymes.
Curcumin boosts levels of the brain hormone BDNF, which increases the growth of new neurons and fights various degenerative processes in your brain.
Curcumin leads to several changes on the molecular level that may help prevent and perhaps even treat cancer.
Arthritis is a common disorder characterized by joint inflammation. Many studies show that curcumin can help treat symptoms of arthritis and is in some cases more effective than anti-inflammatory drugs.