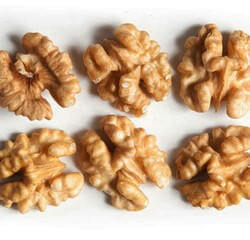 Walnut Halves 100g
Walnut halves
are also referred to as "Whole Halves". ...Walnuts are tree nuts, and they grow in a shell about one and a half inches around. Inside the shell, the meat grows in two separate parts, so the biggest single piece of walnut you can have is one of these two halves.
Walnuts are among the oldest tree foods grown by man, with their importance being highlighted back in 7000 B.C. Walnuts are immensely rich in nutrition and their benefits ranging from metabolism to heart health.
Taste Sensation:  Fresh, Crisp, Bitter
Enjoy With:  Salads,  Mixes, Baking
Nutritional Benefits: Walnuts are an excellent source of anti-inflammatory omega-3 essential fatty acids, in the form of alpha-linolenic acid (ALA). Walnuts are also rich in antioxidants, including being a very good source of manganese and copper. They are also a good source of molybdenum and the B vitamin biotin.
When added in the right amount and consumed regularly, walnuts may lead to genetic changes and prevent the risk of colorectal cancer, as found in a Harvard study. With so many benefits, you only need to consume 1-2 walnuts per day. Walnuts are exceptionally nutritious. They have higher antioxidant activity and significantly more healthy omega-3 fats than any other common nut. This rich nutrient profile contributes to the many health benefits associated with walnuts, such as reduced inflammation and improved heart disease risk factors.
What is the best time to eat walnuts? If you want to receive the maximum benefit from nuts, then its advised to consume them in the morning. Consuming nuts along with breakfast can help you ward off fatigue and smoothly regulate blood pressure in your body. Experts suggest that nuts and dry fruits are one of the healthiest snack options around.
Gluten Free, Cholesterol Free