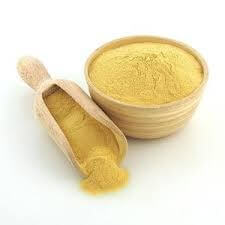 Yeast, Brewers' Unsalted 250g
Brewer's yeast is an ingredient used in the production of beer and bread. It is made from Saccharomyces cerevisiae, a one-celled fungus. Brewer's yeast has a bitter taste.
Brewer's yeast is also used as a nutritional supplement. It's a rich source of chromium, which may help your body maintain normal blood sugar levels. It is also a source of B vitamins.
Brewer's yeast is considered a probiotic and is used to aid digestion.
Brewer's yeast contains small organisms (microflora) that help maintain the proper functioning of the digestive tract.
Brewer's yeast is a nutritional supplement and may enhance energy levels and strengthen the immune system. It's a rich source of:
chromium
protein
selenium
potassium
iron
zinc
magnesium
It is also a great source of B vitamins that provide:
thiamine (B-1)
riboflavin (B-2)
niacin (B-3)
pantothenic acid (B-5)
pyridoxine (B-6)
folic acid (B-9)
biotin (B-7)
Brewer's yeast can provide energy and may help maintain healthy skin, hair, eyes, and mouth. It may be effective at supporting the nervous system and enhancing the immune system.
The chromium in brewer's yeast may help control sugar levels for patients with type 2 diabetes by improving glucose tolerance.
You should speak with your healthcare provider before taking brewer's yeast. Supplements such as brewer's yeast can interact with certain medications.
The side effects of brewer's yeast are generally mild. The most common side effects are excess gas, bloating, and migraine-like headaches.
Stop taking brewer's yeast and contact your healthcare provider immediately if you experience chest pain, throat or chest tightness, or difficulty breathing. These side effects may indicate an allergic reaction to brewer's yeast.
Brewer's yeast is a source of B vitamins but it does not contain B-12. Inadequate amounts of B-12 can cause anemia, so it's important to make sure you have sources of B-12 in your diet.