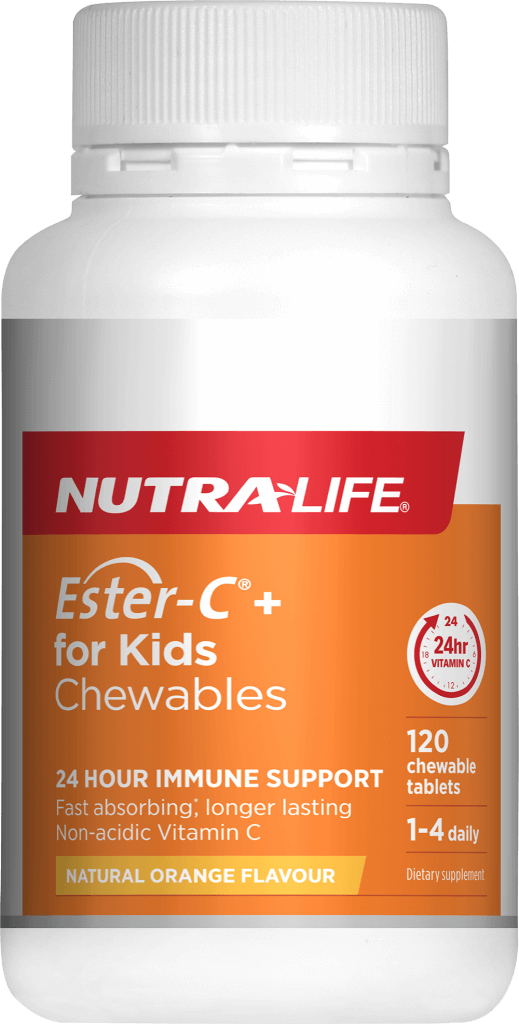 Nutralife Ester-C for Kids 120 chewable tabs
Ester-C® is a researched form of Vitamin C that supports natural immunity. It is a non-acidic form of Vitamin C and may be better tolerated than standard Vitamin C in people who are sensitive to acidic foods.
Nutra-Life Ester-C® + for Kids chewables:
Provides 24 hour immune support
May help reduce the duration and severity of colds
DOSAGE:
Children 4-8 Years: Chew 1-3 tablets daily with food.  Children 9 Years and Above: Chew 1-4 tablets daily with food. Or as directed by your healthcare professional.  Not to be used in children under 2 years of age without medical advice.
INGREDIENTS:
Each chewable tablet provides:
Ester-C® (Calcium ascorbate – threonate complex) 110mg
Equiv. Vitamin C (Ascorbic acid) 84mg
Sodium ascorbate 46mg
Equiv. Vitamin C (Ascorbic acid) 41mg
Vitamin C (Ascorbic acid) 45mg
Total Vitamin C 170mg
Zinc (as gluconate) 2mg
Colecalciferol (Vitamin D3 100 IU) 2.5μg
Tabletting aids
Natural flavours
Natural sweeteners (fructose, stevia)
FORMULATED WITHOUT:
Gluten, wheat, dairy products, soy, egg, artificial colours, artificial flavours or artificial sweeteners.
Suitable for vegetarians (but not vegans due to the Vitamin D).