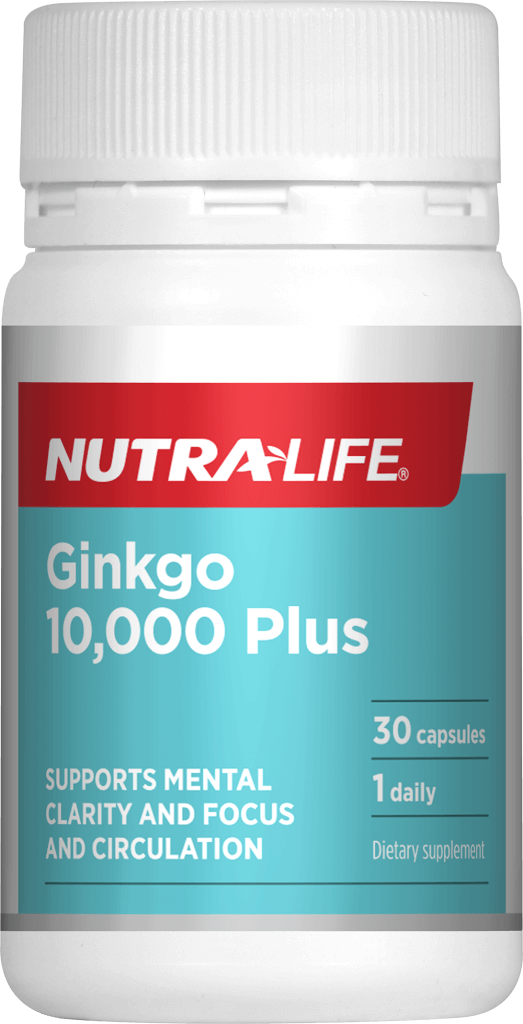 Nutralife Ginkgo 10,000 Plus 30 caps
This formula is a complex of Ginkgo, Hawthorn and supporting vitamin and mineral co-factors to support peripheral circulation as well as normal brain and cognitive function.
Taken when required, Nutra-Life Ginkgo 10,000 Plus may help to:
Support circulation, particularly to hands, legs and feet
 Support general well-being
 Assist with memory and cognitive function.
DOSAGE:
Recommended Adult Dosage: Take 1 capsule daily with food or as directed by your healthcare professional.
INGREDIENTS:
Each capsule provides:
Standardised herbal extracts equiv. dry: Brahmi (Bacopa monnieri) whole plant 2g,
Equiv. Bacosides calc. as Bacoside A 45mg
Ginkgo biloba leaf 10g
Equiv. Ginkgo flavonglycosides 49mg
Equiv. Ginkgolides and bilobalide 12mg
Cofactors: Tyrosine 100mg
Glutamine 100mg
Lecithin 50mg
Encapsulating aids.
FORMULATED WITHOUT:
Gluten, wheat, dairy products, egg, corn, artificial colours, artificial flavours, artificial sweeteners or preservatives.