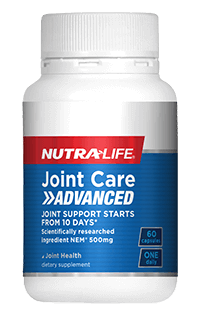 Nutralife Joint Care Advanced 60 caps
This next generation joint support formula containing 500mg of the scientifically researched ingredient NEM® brand eggshell membrane. It provides fast joint support with a single small, easy-to-swallow, one-a-day capsule. Studies have shown that NEM® may help support joint comfort and flexibility starting from 10 days*. When taken regularly, Nutra-Life Joint Care Advanced may help to:
Support healthy joint cartilage and connective tissue
Support joint comfort and flexibility
Provide the body with the nutrients it needs to naturally rebuild damaged joint cartilage
* individual experience may vary
DOSAGE:
Recommended Adult Dosage:  Take 1 capsule daily, or as directed by your healthcare professional.
INGREDIENTS:
INGREDIENTS: Each capsule provides
NEM® brand eggshell membrane 500mg
Encapsulating aids
FORMULATED WITHOUT:
Gluten, wheat, dairy products, corn, soy, artificial flavours, artificial colours, artificial sweeteners or preservatives.

Always read the label and take only as directed.  Derived from Egg.  This product is not recommended for people allergic to eggs.