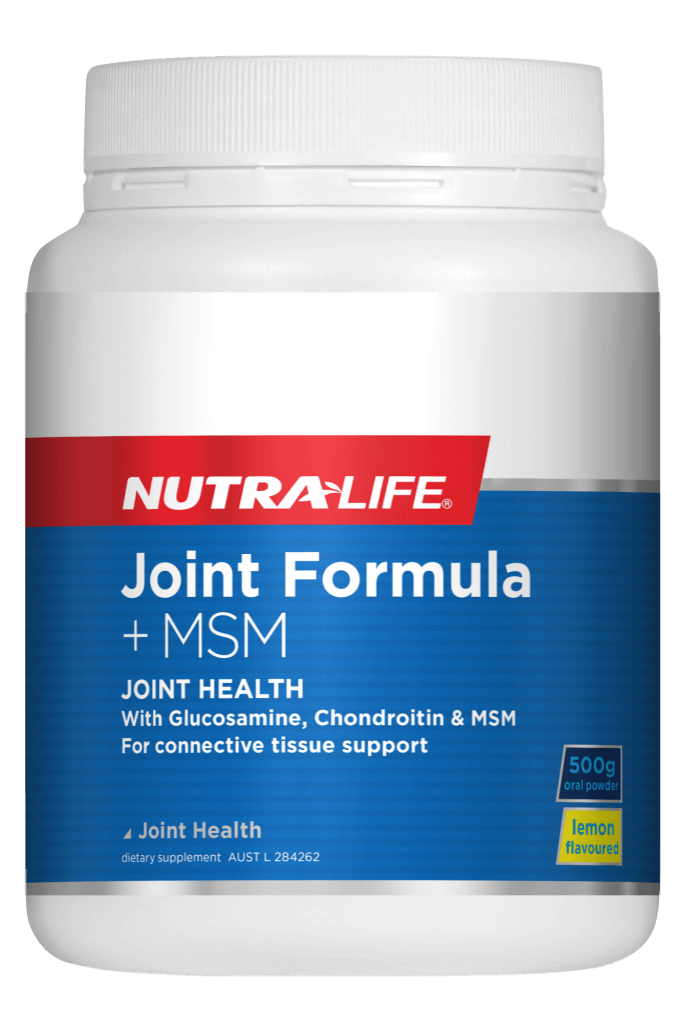 Nutralife Joint Formula + MSM Powder 500g
Scientifically formulated Nutra-Life Joint Formula + MSM powder combines MSM with Glucosamine sulfate and Chondroitin sulfate, both of which have been shown to support the health and function of joints. Also included are important supporting nutrients – Copper and Manganese to help maintain connective tissue.
Glucosamine is produced naturally in the body where it is important for maintaining the elasticity, strength and resilience of cartilage in joints. Glucosamine is also a key building block for cartilage, tendons, ligaments and synovial fluid while Chondroitin supports the health and function of the joints. MSM is a source of sulphur. Cartilage has a high content of sulphur and sulphur is required for the formation of connective tissue.
When taken regularly, Nutra-Life Joint Formula + MSM powder may help:
Support healthy joint function
Support the development and maintenance of cartilage
Assist with healthy joint mobility
Comprehensive joint nutrition
Provides high-dose nutrients to support healthy joints
Includes a range of antioxidants and minerals
Versatile, convenient and dissolvable
DOSAGE:
Recommended Adult Dosage: Add 1 level scoop (15g) to 250mL water or fruit juice twice daily. Mix thoroughly prior to consumption and take with meals. Alternatively 1 level scoop (15g) can be added to food twice daily. Or as directed by your healthcare professional.
INGREDIENTS:
Serving size 15g (1 level scoop)
Serves per day: 2 level scoops (30g). Servings per pack = 33 (500g); 66 (1kg).
Bovine sodium chondroitin sulfate 682mg 1.36g
Equiv. Chondroitin sulfate 600mg 1.2g
Dimethyl sulfone (MSM) 750mg 1.5g
Glucosamine sulfate potassium chloride 750mg 1.5g
Equiv. Glucosamine sulfate 565mg 1.13g
Equiv. Potassium chloride 185mg 370mg
Cofactors
Ascorbic acid (Vitamin C) 150mg 300mg
Boron (as Borax) 500μg 1000μg
Copper (as gluconate) 500μg 1000μg
Manganese (as sulfate monohydrate) 3mg 6mg
Zinc (as oxide) 6mg 12mg
Glucose
Maltodextrin
Natural flavours
Silicon dioxide
Contains glucose
FORMULATED WITHOUT:
Gluten, wheat, dairy products, egg, soy, artificial colours, artificial flavours or artificial sweeteners.