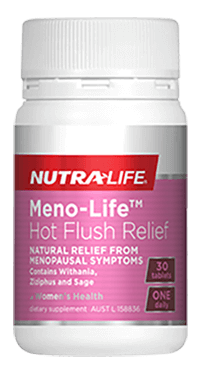 Nutralife Meno-Life Hot Flush Relief 30 tabs
his product contains a blend of herbs formulated to help provide natural relief from menopausal symptoms including hot flushes, irritability and nervous tension.  It contains soy as a source of phytoestrogenic isoflavones which may assist in balancing oestrogen activity. It may also help support sleep and night sweats due to the Traditional Chinese Medicine herb Ziziphus.
Nutra-Life Meno-Life™ Hot Flush Relief may help to:
Relieve symptoms associated with menopause including hot flushes
Ease nervous tension and irritability
Support sleep and night sweats
DOSAGE:
Recommended Adult Dosage: Take 1 tablet in the morning with food.  If required, take an extra tablet before bedtime or as directed by your healthcare professional.
INGREDIENTS:
Each tablet provides
Standardised Herbal extract equiv. dry 
Glycine max (Soya) seed 20g
     standardised equivalent Isoflavones 50mg
Herbal extracts equiv. dry
Salvia officinalis (Sage) leaf 1.5g
Ziziphus jujuba (Ziziphus) seed 3g
Asparagus racemosus (Shatavari) root 1g
Withania somnifera (Winter cherry) root 2g
Colours, Tabletting aids
FORMULATED WITHOUT:
Gluten, wheat, animal products, dairy products, egg, artificial flavours, artificial sweeteners, or preservatives.
Suitable for vegetarians and vegans.