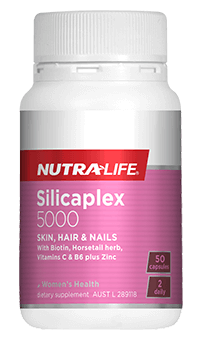 Nutralife Silicaplex 5000 + Zinc 50 caps
This formula combines 5 key ingredients: Horsetail herb, Biotin, Vitamins C and B6 plus Zinc. Horsetail herb contains naturally occurring Silica. Biotin supports nail and hair health. Vitamin C supports collagen formation to assist skin healing and repair and is necessary for the maintenance of healthy skin. Zinc supports healthy skin renewal processes plus Vitamin B6 supports healthy immune system function.
Taken regularly, Nutra-Life Silicaplex 5000 may help to:
Support healthy hair, skin and nails
Support collagen formation plus healing and repair of the skin
Support healthy skin renewal processes and healthy immune system function
DOSAGE:
Recommended Adult Dosage: Take 2 capsules daily, or as directed by your healthcare professional.
INGREDIENTS:
Each capsule provides
Herbal extract equiv. dry
Equisetum arvense (Horsetail) stem 5g
Vitamins and mineral
Pyridoxine hydrochloride 7.5mg  (Equiv. Pyridoxine (Vitamin B6) 6.2mg)
Ascorbic acid (Vitamin C) 25mg
Biotin 20μg
Zinc (as gluconate) 4mg
Encapsulating aids, Antioxidant
FORMULATED WITHOUT:
Gluten, wheat, dairy products, egg, soy, artificial colours, artificial flavours, artificial sweeteners or preservatives.