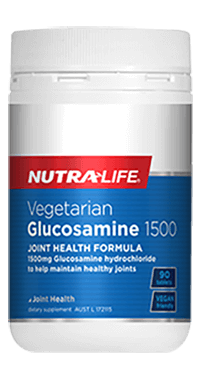 Nutralife Vegetarian Glucosamine 1,500mg 90 tabs
Made from non-GMO corn, this high potency, one-a-day Glucosamine supplement supports joint health. Glucosamine assists in building and maintaining healthy cartilage, which is essential for the healthy function of the joints. Because these tablets contain no animal ingredients, vegans and vegetarians can take this product with confidence. Glucosamine hydrochloride works to temporarily relieve pain and may help reduce joint swelling associated with mild arthritis. Taken regularly, Nutra-Life Vegetarian Glucosamine 1500 may help to:
Increase joint mobility associated with mild arthritis
Temporarily relieve pain associated with mild osteoarthritis
Reduce mild arthritic joint swelling and inflammation
DOSAGE:
Recommended Adult Dosage: Take 1 tablet daily or as directed by your healthcare professional.
INGREDIENTS:
Each tablet provides
Glucosamine hydrochloride 1.5g
FORMULATED WITHOUT:
Gluten, wheat, dairy products, egg, soy, artificial colours, artificial flavours, artificial sweetener or preservatives.