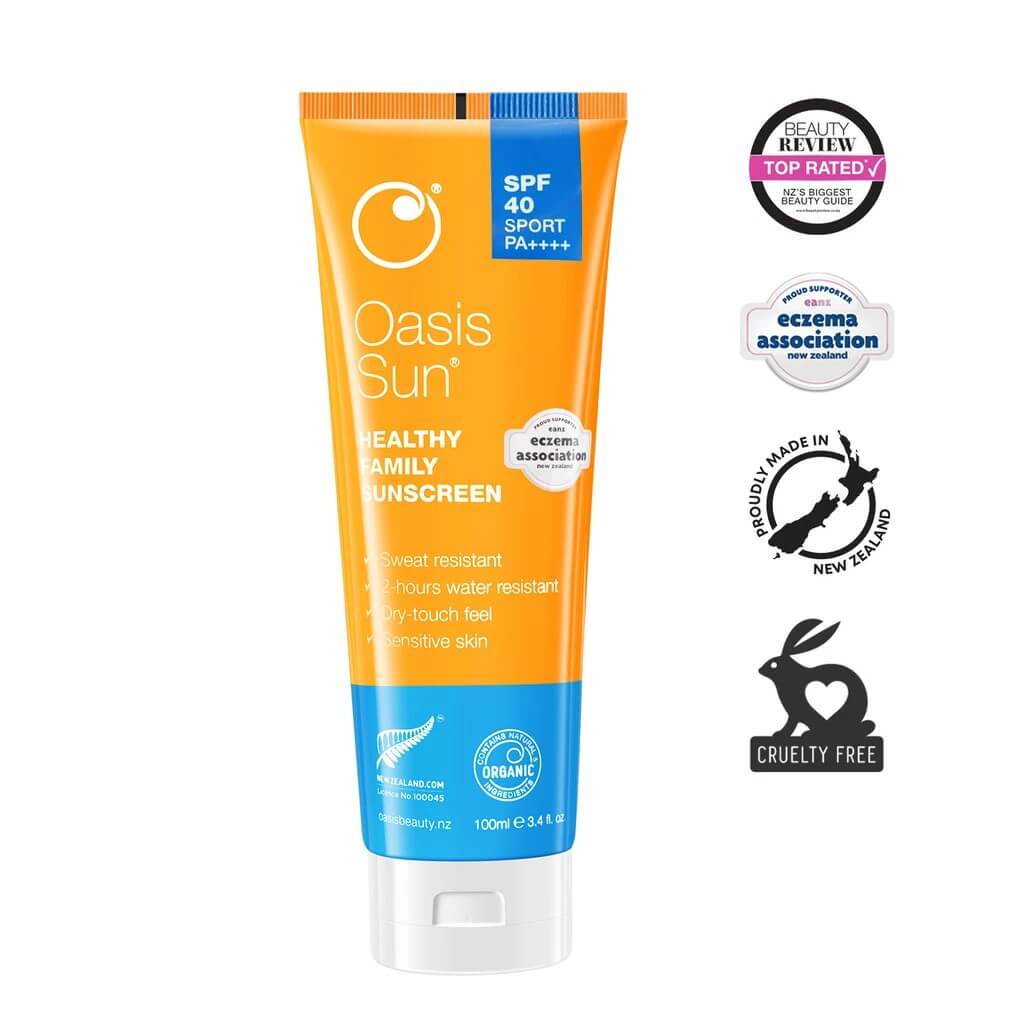 Oasis Sun SPF 40 Sport 100ml
PASSED WITH FLYING COLOURS BY CONSUMER NZ IN THEIR 2019 SUNSCREEN REPORT
Oasis Sun SPF 40 Sport is a superior, water and sweat-resistant reef safe sunscreen.  The latest generation ingredients offer the most completely photo-stable sun protection available on the market today, with an extremely low allergy risk.
We designed it using the harsh sunlight and UV conditions of New Zealand as a testing ground.  Then we took it to an independent laboratory to ensure meets the latest sunscreen standards giving you full confidence that this product does what it says!
So, Oasis Sun SPF 40 Sport does a tough job but we've kept the ingredients as gentle as possible and made sure it's also kind to your skin.  In fact, we've formulated this sunscreen specifically for sensitive skin.
Oasis Sun SPF 40 Sport:
Water and sweat resistant for up to 2 hours
Dry-touch feel
Suitable for sensitive skin with a low allergy risk
Free of fragrance, colouring, parabens, phthalates and sulphates
Vegan friendly
Completely photo-stable and no estrogenic activity
Broad spectrum UVA and UVB protection
Perfect 100ml travel size.  Approved for carry-on luggage
Reef safe
Tested in 2016 in Australia against AS/NZ Standard 2604:2012 and rated SPF 41 and water resistant for 2 hours  (full 10-subject study test)

Apply liberally to skin at least 20 minutes before going outside.  Reapply at least every 2 hours and after swimming, surfing, exercise or towel drying.   As with all our sunscreens, it is safe to use on the face and around the eyes.  But do not get it into your eyes because, like most things you get in your eye, it will sting. Cover up with clothing, sunhat and sunglasses and stay in the shade (when possible) during peak burn time (10am to 4pm). And remember our sunscreens are some of the best but it's not a coat of armour and you should always be careful out in the New Zealand or Australian sun.