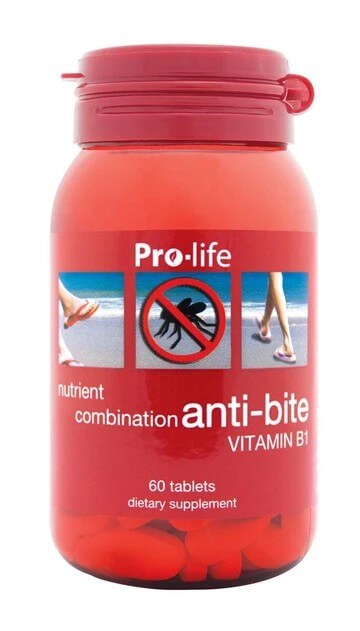 Anti-Bite Pro-life Vit B1 60 tablets
The combination of nutrients in Anti-bite with Vitamin B1 enable the body to deter insect bites and also reduce the severity of bites.
Vitamin B1 supports immunity and general metabolism.
Garlic maintains cardiovascular function and immunity.
Quercetin is an antioxidant which helps eliminates free radicals. This plant antioxidant supports the heart and helps maintain blood fat levels in the normal range.
Anti-bite is suitable for those who are planning a holiday or live in areas where sandflies are prolific, such as near bush, beaches, lakes, rivers and swamps. This product can be used in conjunction with an aerosol insect repellent.
Ingredients:
Each tablet contains: Thiamine HCl (Vitamin B1) 75mg, Odourless Garlic 1000mg, Quercetin 50mg. This product contains tableting aids and coating colour. Herbal extract used.
Suggested Use:
Adults: Take 1-3 tablets daily, or as professionally recommended. Children (10 years and over): Take ½ tablet twice daily, or as professionally recommended.
Best to spread the dose throughout the day, as being a water soluble vitamin, it will be excreted from the body if taking with plenty of fluids. It is advisable to start taking two weeks before being exposed to sandflies and continue thereafter.
Cautions:
Seek professional health advice if pregnant, lactating, taking medication or suffering a medical condition before supplementing.