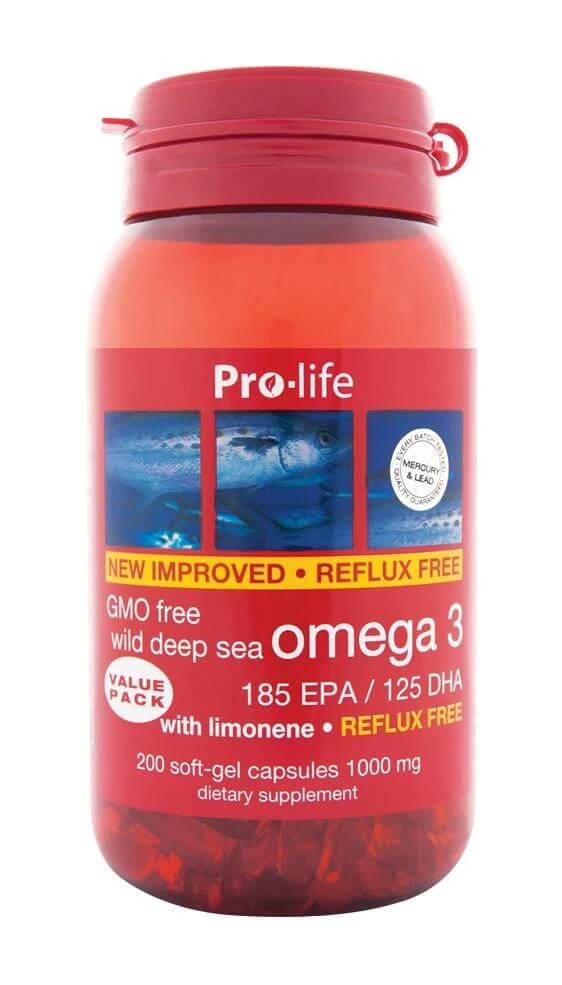 Omega 3 Pro-life 185/125 DHA 200caps
Omega-3 fatty acids are polyunsaturated fatty acids derived from wild deep sea fish. They are rich in EPA and DHA which are essential for the development and function of the eyes, nerves and brain. Omega-3 fatty acids help support cardiovascular health.
DHA is essential for neurological development and supports cognitive function and mental health.
Omega 3 is also an essential beauty supplement. Essential fatty acids support skin structure, circulation and anti-inflammatory response.
EPA and DHA help maintain blood fat levels in the normal range to support a healthy heart.
Omega 3 helps maintain joint function and anti-inflammatory response.
Essential fatty acids are found in the retina of eyes and aids normal visual function.
Ingredients:
Each capsule contains: Deodorised Fish Oil 1000mg. Providing: Eicosapentaenoic Acid (EPA) 185mg, Docosahexaenoic Acid (DHA) 125mg. This product contains encapsulating aids and orange oil (containing limonene).
Suggested Use:
Adults: Take 1-3 capsules daily with food, or as professionally recommended.
Cautions:
Seek professional health advice if pregnant, lactating, suffering from a medical condition or taking medication (i.e. anti-coagulant or anti-platelet) before supplementing. Not suitable for vegans or vegetarians.