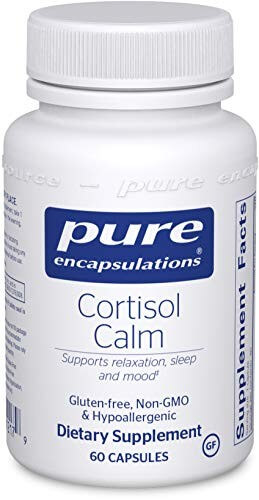 Cortisol Calm 60 caps
Product Description
Mild Stress Management Support: Maintains healthy cortisol levels under mild stressful conditions.*
Cognitive Health: This formula is designed to maintain healthy cortisol levels and to support relaxation, restful sleep, and positive mood during times of occasional stress.*
Mood Support: Rhodiola and magnolia may also maintain healthy adrenal cortisol activity and offer support for occasional stress, mood and emotional well-being.*
Pure Quality: Our supplements are made with only premium ingredients sourced from trusted suppliers and guided by our nutritional experts, then carefully manufactured and tested to verify their potency and purity.
Pure Difference: What makes us different isn't just our process or what goes into our supplements -- what we leave out matters, too. All Pure Encapsulations products are FREE FROM many common allergens like wheat, eggs, tree nuts & peanuts, gluten, artificial colours, flavours & sweeteners, coatings and shellacs, GMOs, unnecessary binders, fillers & preservatives, and more.
Directions:
1 capsule in the morning and 1 capsule in the evening, with meals.