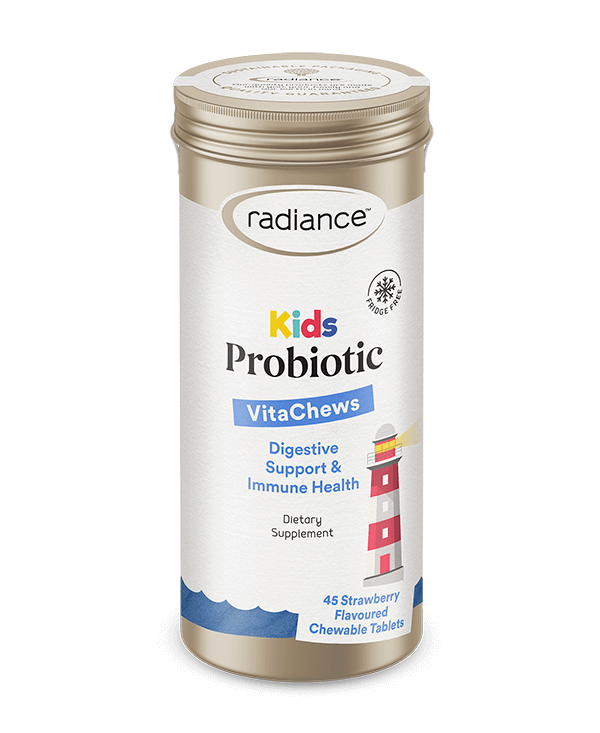 Kids Probiotics Strawberry VitaChews 45 tabs chewable
Healthy growth and development requires optimal digestive health and immune function. Radiance Kids Probiotic VitaChews provide BB-12, a clinically researched, acid resistant, shelf stable probiotic strain shown to help support digestive health and immune system function.
Probiotics like BB-12, may be helpful for children with sensitivites, upset tummies or those taking antibiotics. In addition, healthy intestinal flora helps to create a favourable environment for optimal digestion and absorption of nutrients.

SIZE: 45 Strawberry Flavoured Chewable Tablets

DIRECTIONS Children over 2 years: Chew 1 or 2 tablets daily. For use with antibiotics: Best taken 2 hours after antibiotics.

INGREDIENTS Each Chewable Tablet Contains: Probio-Tec® Bifidobacterium BB-12® 11 billion CFU* (*11 billion CFU at date of manufacture)

EXCIPIENTS Fructose, glyceryl behenate, natural strawberry flavour, citric acid, magnesium stearate, mannitol.

PRECAUTIONS Dietary Supplements can be toxic in high doses. Keep out of reach of children. Close lid tightly. Best used within 2 months of opening. Refrigeration after opening is not required, but may help extend CFU strength...