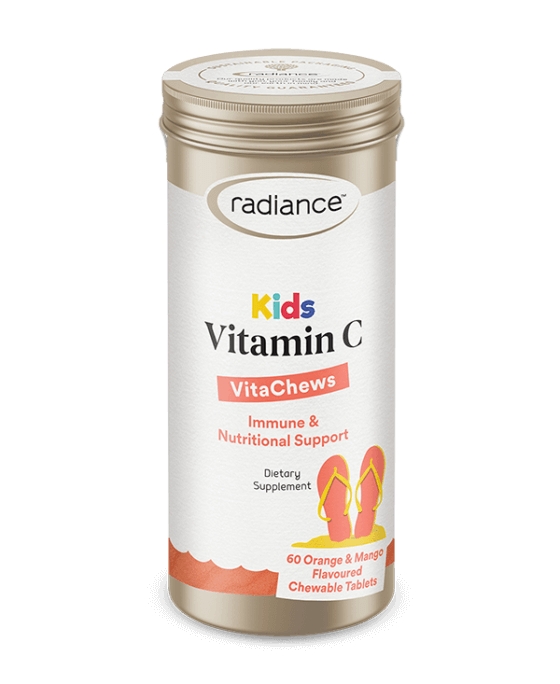 Kids Vitamin C Vita Chews 60
Kids Vitamin C VitaChews 60's
Healthy growth and development requires balanced nutrition and a steady intake of vitamin C. Our bodies are unable to make this essential nutrient which is necessary for healthy immune function, growth and development. Delicious Radiance Kids Vitamin C VitaChews make it easy to keep kids topped up with the antioxidant goodness of vitamin C. Radiance Vitamin C VitaChews also contain bioflavonoids and potent antioxidants that support the actions of Vitamin C.

SIZE: 60 Orange & Mango Flavoured Chewable Tablets.
DIRECTIONS
Children 2-4 years: Up to 2 tablets daily, preferably with food
Children 5+ years: Up to 6 tablets daily, preferably with food
INGREDIENTS
Each Chewable Tablet Contains:
Vitamin C ( as ascorbic acid) 115mg
Acerola Cherry extract (equiv. to ascorbic acid 10mg) 40mg
Bioflavonoids (citrus) 5mg
EXCIPIENTS
Glucose, magnesium stearate, silica, stevia, natural orange & mango flavour, tumeric.
PRECAUTIONS
Dietary Supplements can be toxic in high doses. Keep out of reach of children. Close lid tightly. Store in a cool dry place.