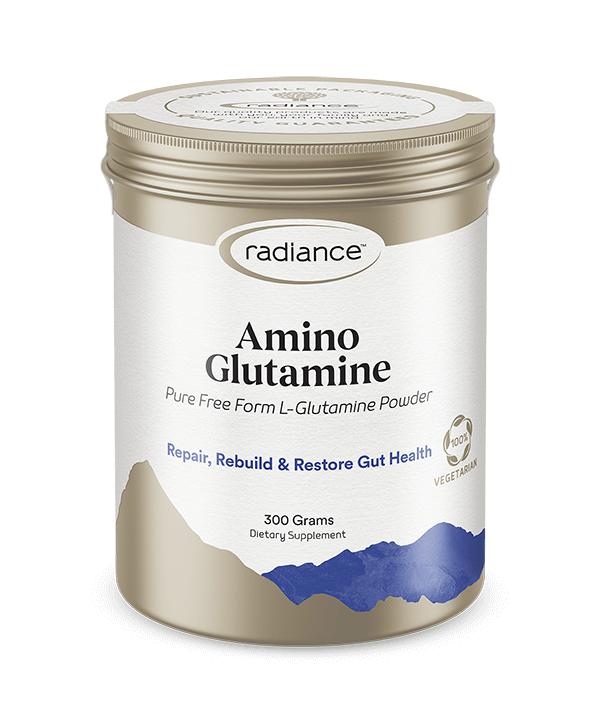 Radiance Amino Glutamine 300mg
Repair, rebuild, restore Gut health

Radiance Amino Glutamine provides L-Glutamine, the most abundant amino acid in the body. It is a major fuel source for cells that line the gut wall and is a vital nutrient for the intestines to repair and rebuild. Damage to tissue lining the digestive tract can lead to poor bowel health, discomfort and upset. Radiance Amino Glutamine supports the health and healing of intestinal tissue and helps support normal digestive function and balance. L-gluatmine also supports muscle growth and athletic performance and can assist with healthy recovery from exercise.

SIZE: 120 Chewable Tablets.

DIRECTIONS Chew up to 3 tablets as required after meals.

INGREDIENTS Each Capsule Contains: Proprietary blend: 62.5mg Papain,papaya fruit powder, protease, bromelain, lipase, cellulase, amylase, natural mango flavour, chlorophyll.

EXCIPIENTS Sorbitol, sucrose, dextrates, microcrystalline cellulose, stearic acid, magnesium stearate, silica.

PRECAUTIONS Dietary Supplements can be toxic in high doses. Keep out of reach of children. Close lid tightly. Store in a cool, dry place...