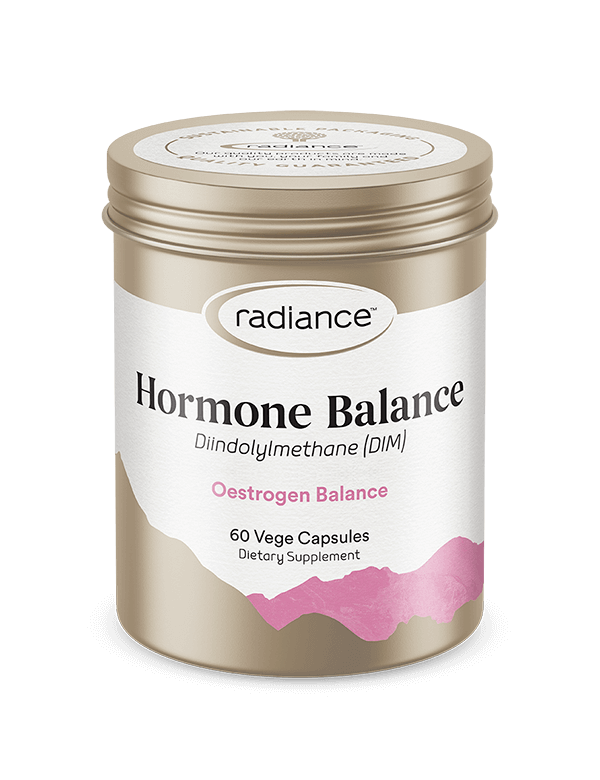 Radiance Hormone Balance 60 caps
Radiance Hormone Balance provides premium quality BioResponse DIM® for healthy oestrogen balance. This unique formulation contains bioavailable diindolylmethane, a compound found in cruciferous vegetables such as broccoli. BioResponse DIM® has been shown to support healthy oestrogen metabolism and normal oestrogen metabolite ratios; important for both men and women, particularly for the health of breast, uterus, prostate and other reproductive tissues.

SIZE: 60 Vege Capsules.

DIRECTIONS Women: 2 to 4 capsules daily, with food. Men: 2 to 4 capsules twice daily, with food.

INGREDIENTS Each Capsule Contains: Bio-Response-DIM® complex 75mg (Providing min. 18.5mg bioavailable diindolylmethane)

EXCIPIENTS Cellulose capsule, corn starch, natural vitamin E, phosphatidylcholine (soy).

PRECAUTIONS Not to be used if trying to become pregnant, are already pregnant or lactating. Harmless changes in urine colour may occur. Dietary Supplements can be toxic in high doses. Keep out of reach of children. Close lid tightly. Store in a cool dry place...