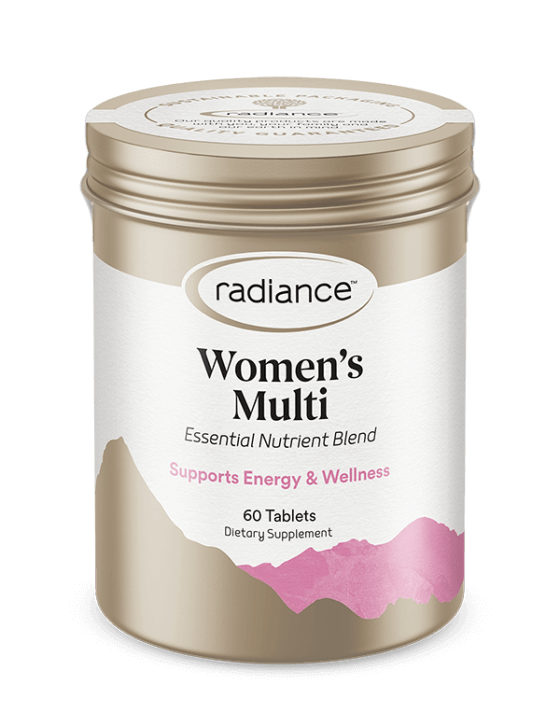 Radiance Multi for Women 60 tabs
Energy and Wellness

Radiance Multi for women provides a comprehensive, high potency blend of essential everyday vitamins and minerals. Formulated to include nutrients to support balance and wellbeing. Ashwagandha for stress and energy support, antioxidants for free radical protection and enzymes to support digestion, all in base of green foods for optimal wellness. Radiance Multi provides nutritional support for women to optimise health and vitality, balance mood and outlook and support the body during times of stress.

SIZE: 60 Tablets.

DIRECTIONS Take 1 tablet daily with food.

INGREDIENTS Each Tablet Contains:
Betacarotene 1.5mg
Iron (as Fumarate) 5mg
Thiamine (Vitamin B1) 50mg
Inositol 50mg
Riboflavin (Vitamin B2) 50mg
Iodine (as Potassium Iodide) 100ug
Nicotinamide (Vitamin B3) 50mg
Magnesium (as Phosphate) 25mg
Pantothenic Acid (Vitamin B5) 75mg
Manganese (as Amino Acid Chelate) 2mg
Pyridoxine (Vitamin B6) 50mg
Molybdenum (as Molybdenum Trioxide) 25ug
Folic acid (Vitamin B9) 300ug
Selenium (as Selenomethionine) 25ug
Cyanocobalamin (Vitamin B12) 50ug
Zinc (as Amino Acid Chelate) 6mg
Ascorbic acid (Vitamin C) 150mg
Hordeum vulgare (Barley leaf - organic) leaf powder 100mg
Cholecalciferol (Vitamin D3 500IU) 12.5ug
Choline (as Bitartrate) 50mg
Vitamin E (as d-alpha-tocopheryl acid succinate) 24.8mg
Citrus bioflavonoids ext. 25mg
Menaquinone-7 (Vitamin K) 20ug
Bromelain equiv. to 1200GDU 37.5mg
Biotin 150ug Papain 10mg
Boron (as Borax) 1mg
Withania somnifera (Ashwagandha)
Calcium (as Hydrogen Phosphate) 50mg equiv to dry root 1125mg
Chromium (as Picolinate) 50ug
Anthrospira maxima (Spirulina Powder) 100mg
Copper (as Gluconate) 500ug

EXCIPIENTS Povidone, silica, microcrystalline cellulose, crospovidone, croscarmellose sodium, magnesium stearate.

PRECAUTIONS Not recommended during pregnancy or lactation. Dietary Supplements can be toxic in high doses. Keep out of reach of children. Close lid tightly. Store in a cool dry place...