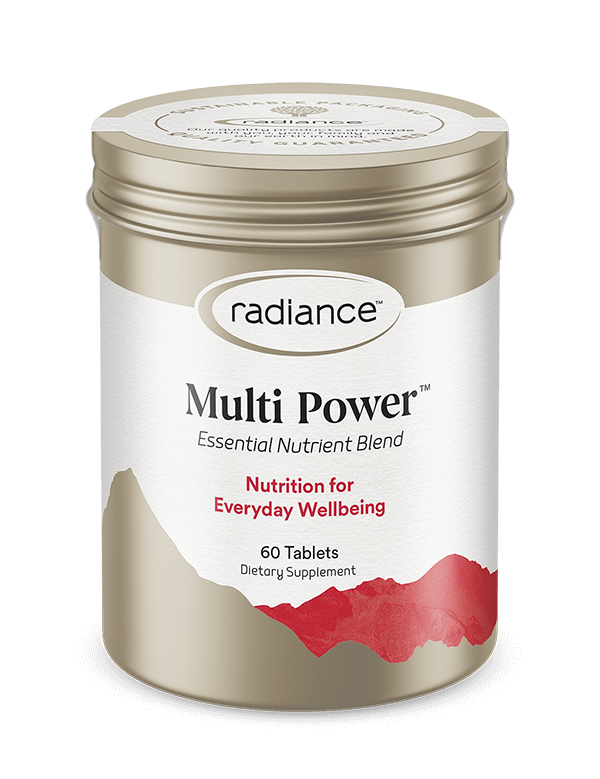 Radiance Multi Power 60 tabs
Nutrition, Gerneral Wellbeing

Radiance Multi Power™ is formulated to provide a broad range of vitamins, minerals, antioxidants, green foods, enzymes and plant extracts in a synergistic blend. Taken daily, these everyday essential nutrients support optimal health, energy and wellbeing.

SIZE: 60 Tablets.

DIRECTIONS Take 1 tablet daily, preferably with food.

INGREDIENTS Each Tablet Contains: Betacarotene 4mg Selenium (as Selenomethionine) 25mcg Vitamin B1 (Thiamine) 50mg Silicon (as Dioxide) 10mg Vitamin B2 (Riboflavin) 50mg Zinc (as Chelate) 5mg Vitamin B3 (Nicotinamide) 50mg Hordeum vulgare (Barley leaf powder - organic) 125mg Vitamin B5 (Pantothenic Acid) 68.7mg Bromelain 37.5mg Vitamin B6 (Pyridoxine) 39.9mg Choline (as Bitartrate) 50mg Folic acid 300mcg Citrus bioflavonoids ext. 25mg Vitamin B12 (Cyanocabalamin) 50mcg Lutein 125mcg Vitamin C (Ascorbic Acid) 150mg Papain 10mg Vitamin D3 (Cholecalciferol) 500IU Anthrospira maxima (Spirulina powder) 125mg Vitamin E (d-alpha-tocopheryl acid succinate) " 30IU" Vitis vinifera seed (Grape Seed) ext. dry conc 3000mg Biotin 150mcg equiv. to procyanidins 23.75mg Boron (as Borax) 500mcg Calcium (as Calcium Hydrogen Phosphate) 50mg Chromium 50mcg Copper (as Gluconate) 500mcg Iron (as Fumarate) 5mg Inositol 50mg Iodine (as Potassium iodide) 75mcg

EXCIPIENTS Hydroxypropyl cellulose, microcrystalline cellulose, crospovidone, croscarmellose sodium, magnesium stearate.

PRECAUTIONS Dietary Supplements can be toxic in high doses. Keep out of reach of children. Close lid tightly. Store in a cool dry place...