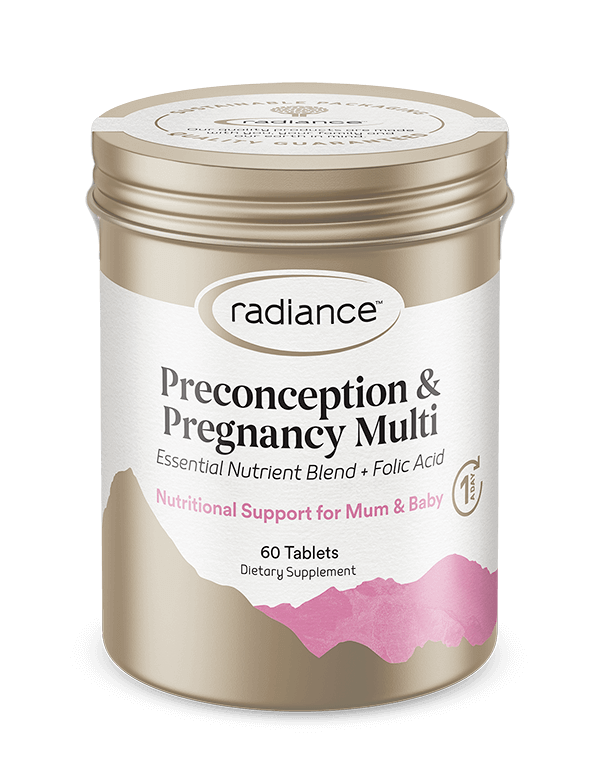 Radiance Multi Pregnancy 60 tabs
Nutritional support for Mum and Baby

Radiance Multi for Preconception & Pregnancy provides a comprehensive array of 32 essential vitamins and minerals including 500mcg folic acid, vitamin B complex, vitamins C, D and K, calcium, iodine, magnesium and non-constipating iron. Daily supplementation with Radiance Multi for Preconception and Pregnancy provides nutritional support for both mum and baby during preconception, pregnancy and breast feeding.

SIZE: 60 Tablets.

DIRECTIONS Take 1 tablet daily with food.

INGREDIENTS Each Tablet Contains: Vitamin B1 (Thiamine HCl) 15mg
PABA 500µg
Vitamin B2 (Riboflavin) 15mg

Boron (Glycinate) 500µg
Vitamin B3 (Niacinamide) 15mg
Calcium (Carbonate, ascorbate) 300mg
Vitamin B5 (Calcium pantothenate) 15mg
Chromium (Polynicotinate) 25µg
Vitamin B6 (Pyridoxine HCl) 15mg
Copper (Gluconate) 1mg
Vitamin B12 (Methylcobalamin) 25µg
Iodine (Potassium iodate) 100µg
Vitamin C (Ascorbic acid, mineral ascorbate) 100mg
Iron (Bisglycinate) 10mg
Vitamin D3 (Cholecalciferol) 500IU
Magnesium (Oxide, aminoate) 150mg
Vitamin E (d-Alpha tocopherol succinate) 50IU
Manganese (Chelate) 1mg
Vitamin K 1 50µg
Molybdenum (Chelate) 20µg
Beta-carotene (Pro-vitamin A 2500IU) 1.5mg
Phosphorous 24mg Bioflavonoids (Lemon) 30mg
Potassium (aspartate, iodate) 10mg
Biotin 50µg Selenium (L-Selenomethionine) 20µg
Choline 5mg Silica (dioxide) 11mg
Folic acid 500µg
Vanadium (Chelate) 5µ
g Inositol 5mg
Zinc (Chelate) 7.5mg


EXCIPIENTS Cellulose, calcium hydrogen phosphate, povidone, crosscarmellose, magnesium stearate; vegetable cellulose & titanium dioxide coating. PRECAUTIONS Do not exceed recommended dose except on medical advice. To be taken in conjuction with folic acid as per Ministry of Health New Zealand guidelines. Dietary Supplements can be toxic in high doses. Keep out of reach of children. Close lid tightly. Store in a cool dry place...