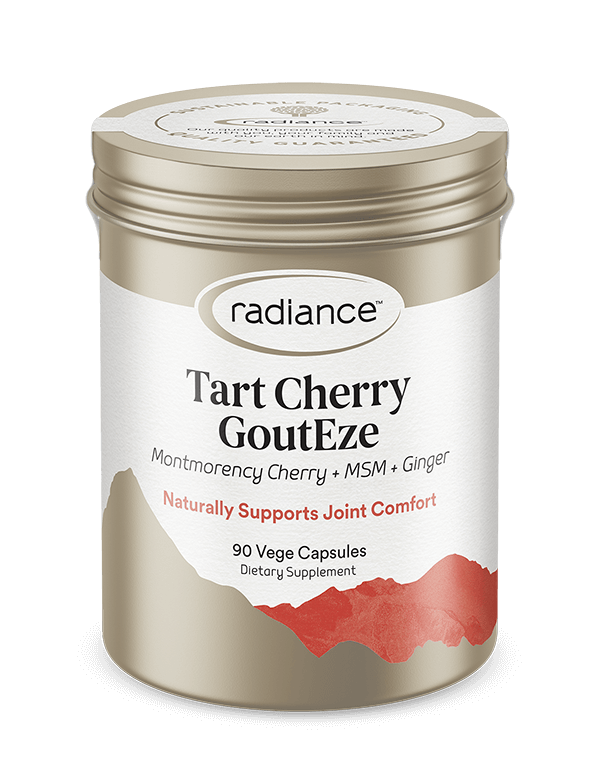 Radiance Tart Cherry GoutEze 90
Radiance Tart Cherry GoutEze provides tart cherry extract for antioxidant protection and the power of MSM for joint comfort. Sodium bicarbonate has a neutralising effect and ginger supports healthy circulation. These ingredients are blended in this unique formulation to support joint health and mobility. The tart cherry in GoutEze is derived from Montmorency cherry skin extract concentrate and is high in polyphenols and flavonoids.

SIZE: 90 Vege Capsules.

DIRECTIONS: Take 3 capsules daily.

INGREDIENTS: Each Softgel Contains: Ginger ext. equiv. to dry root 330mg Montmorency tart cherry skin concentrate (Prunus cerasus) 100mg MSM (methylsulphonylmethane) 100mg Ascorbic acid 80mg Sodium bicarbonate 80mg Magnesium (taurate, citrate) 30mg Vitamin B6 (pyridoxine) 10mg Zinc (monomethionine) 5mg

EXCIPIENTS: Cellulose capsule, vegetable cellulose, magnesium stearate, silica.

PRECAUTIONS: Not recommended for use with Warfarin or other anticoagulant medications as safety has not been established. Dietary Supplements can be toxic in high doses. Keep out of reach of children. Close lid tightly. Store in a cool dry place.