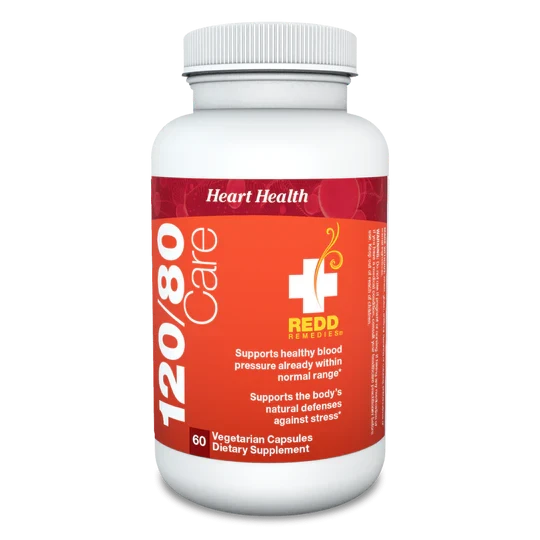 120/80 Care 60 caps
120/80 Care™ is a perfect blend of time tested herbs and botanicals that work proactively to support healthy blood pressure levels and cardiovascular health.
The unique botanicals found in 120/80 Care™ work together to nourish, support, and bring into balance the three factors to healthy blood pressure: your physical body, your emotions (through relaxation), and a youthful sense of well-being.
By marrying the knowledge of ancient herbal traditions with the principles of modern science, we've created an entirely natural solution to supporting healthy blood flow and kidney function.

TRIPLE BLOOD-FLOW FOCUS
Many products only hit one target, leaving you with short-term, ineffective results. 120/80 Care™ addresses all three contributors involved in healthy blood flow and cardiovascular health.

FAST-ACTING AND EFFECTIVE
All the targeted ingredients inside 120/80 Care™ go to work immediately, so that you can start improving your blood pressure and supporting healthy cardiovascular health shortly after you take it. Most 120/80 Care™ users see significant results within the first week!
100% ALL NATURAL & GLUTEN FREE
Our unique formulations are based on thousands of years of healing traditions, combined with the best that modern science has to offer. Each gluten-free serving supports the healthy functioning of the heart, blood vessels, and kidneys which greatly influence cardiovascular health.

Directions: Take ONE capsule morning and evening. Do not use during pregnancy or lactation. Consult your healthcare practitioner first if you have a medical condition or are taking other medication.