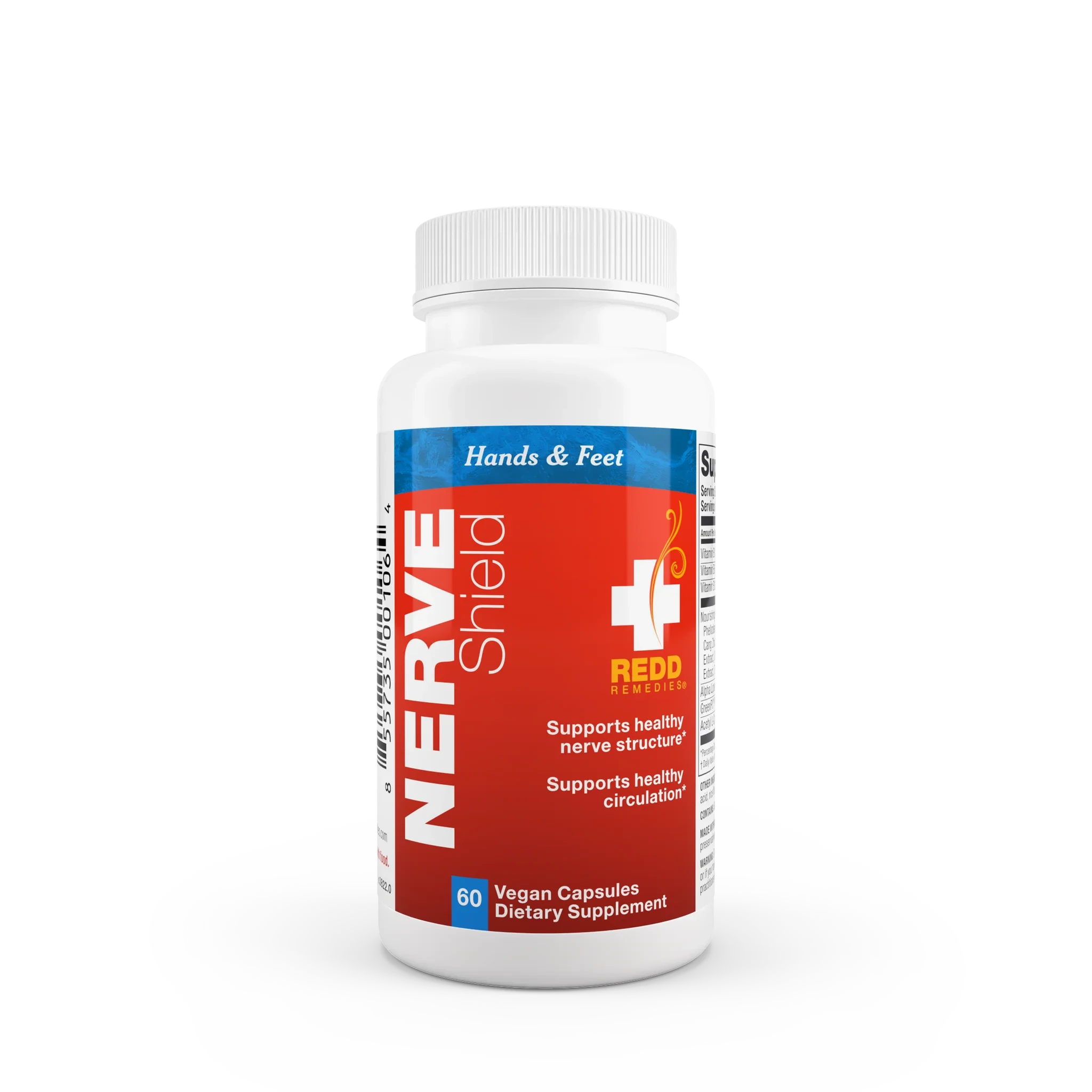 Nerve Shield 60s, capsules or tablets
Our hands play a huge role in almost every physical action we take. Our feet bear the responsibility of taking us where we need to go.
The thought of these appendages becoming compromised is unthinkable. But that's what those coping with damaged nerve fibre and compromised nerve structure go through daily.
Those suffering from this horrible condition may experience:
Persistent bouts of "pins and needles"
Tingling or burning sensations
Appendages "falling asleep"
Numbness
Without the proper use of your hands and feet, how are you supposed to live?

We formulated Nerve Shield™ to help restore the functioning of these extremities so you can go back to living the life you love.
Nerve Shield™ is our formula to help you fight the pain and restore the proper nerve function of your hands and feet.

Its success is achieved by reinvigorating the stagnated blood flow that's responsible for your situation.

By marrying the knowledge of Traditional Chinese Medicine with the principles of modern science, we've created an entirely natural solution to your dilemma.

This powerful blend only uses pure 3rd-party-tested ingredients to restore your myelin sheath, support your overall nerve structure, and boost your immune function!

RELIEVE YOUR PAIN
Whether it's "pins and needles", numbness, or a burning sensation, we'll help fight the discomfort that's compromising your life.

PROTECT NERVES FROM FUTURE PAIN
We'll work to rebuild the myelin sheath around your nerves, so you don't have to worry about the agony tomorrow could bring.

RESTORE HEALTHY NERVES
This formula will help you rebuild and maintain the health of compromised nerve fibre and nerve structure.
KEEP YOUR IMMUNE SYSTEM STRONG
The stress of chronic pain places a huge burden on your immune system. We bring your body's defense system the support it needs to start doing what it does best… keeping you healthy!

EFFECTIVE & EFFICIENT
Most Nerve Shield™ users see significant results within the first 30 days!

Directions: Take TWO capsules or tablets daily.