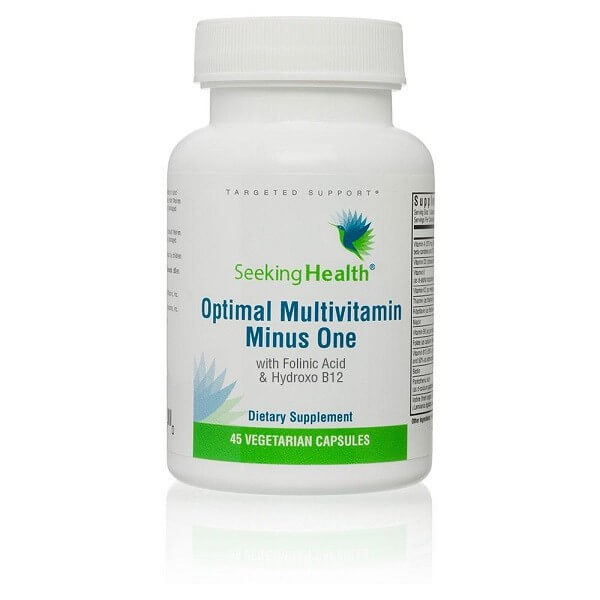 Optimal Multivitamin Minus One 45 Vegecaps
Seeking Health Optimal Multivitamin Minus One is a convenient one-a-day multivitamin providing a wide range of nutrients in their active or well-absorbed forms.
No methylated B vitamins, ideal for those sensitive to methyl groups.
Iron-free.
Vegetarian-friendly.

This multivitamin has been specially formulated to provide essential vitamins and minerals together with herbs in a single-cap-per-day formula. It is also unique in that it does not contain any methylated B vitamins such as methylfolate and methylcobalamin. This makes it perfect for those who are sensitive to methylated nutrients.
Designed to support optimal health in combination with balanced nutrition, this multivitamin provides minerals, vitamins and trace elements to support normal growth and development as well as immune and nervous system health.
Instead of methylfolate, this product contains folinic acid which is preferred over the synthetic folic acid form.
Vitamin B12 is provided in the two active, non-methylated forms: hydroxo and adenosylcobalamin. Both of these forms support energy and metabolism within the body.
Superoxide Dismutase and PQQ have been added to support the body's natural antioxidant defences, while lutein supports eye health.
This multivitamin is free of iron because the majority of adults get enough iron from their diet so do not require supplementation of this nutrient.
Features:
Iron-free.
Contains no methylated nutrients.
Easy to take one-a-day formula.
Supports the body's natural defenses against free radicals.
Supports healthy energy production.
Supports overall health and wellbeing.