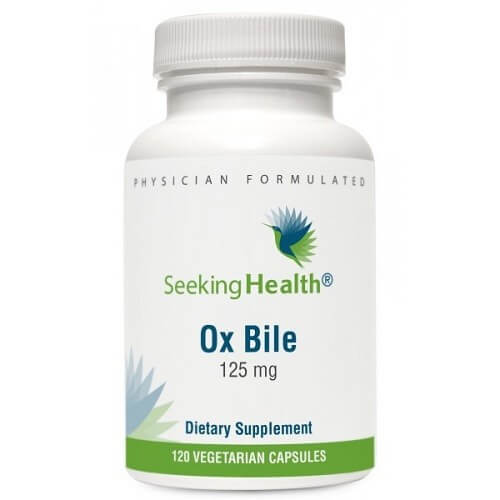 Ox Bile Capsules 120
Seeking Health Ox Bile contains 125mg ox bile per capsule standardised to 45% cholic acid.
Sourced from grass fed oxen without antibiotics or synthetic hormones
Supports healthy digestion and fat metabolism
 Cholic acid is one of the main acids that make up our bile acids and they are important for fat digestion in the small intestines.
The liver is continually producing bile salts which are made by conjugating bile acids including chenodeoxycholic acid and cholic acid with taurine or glycine. These salts then get moved to the gallbladder for storage, where they can be delivered to the intestines after eating. 
Once in the small intestines, the bile acids create micelles around tiny fat drops which then allows lipase to digest the fats. A healthy production of bile is essential for healthy digestion of fats in the diet and for normal absorption of the fat soluble vitamins (A, D, E, K).

Supports:
Healthy nutrient absorption
Healthy digestion of fats and oils in the diet
Overall digestive health
Healthy production of energy