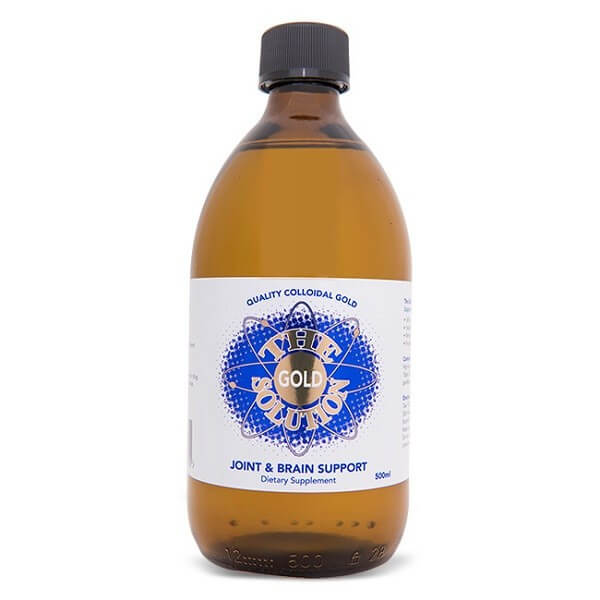 The Gold Solution Colloidal Gold 200ml
The Gold Solution Colloidal Gold is a high-quality solution designed for those who want healthier joints. Colloidal gold specifically supports a healthy immune system response in the joints and joint fluids.
Don't let stiff joints keep you down!
Leading research universities are finding that elemental gold is possibly the greatest discovery for supporting healthy joint mobility.
Features:
Laboratory Tested & Proven
Electro-Colloidal Process
Technologically Advanced
Pure Gold 99.99%
Nil Calories/Kilojoules
Non-Toxic / Non-Addictive
The Gold Solution Colloidal Gold is a high-quality liquid supplement made using a unique manufacturing technique and the purest gold available which results in fast-acting, highly bioavailable natural supplement to benefit body and mind.
The Science:
Duke University Medical Center recently discovered that gold plays an important role in joint fluids to support joint flexibility and lubrication [1].

Harvard Medical School discovered how and why gold supports the immune system's natural healthy defences in joints [2].

Science is now giving us technical answers as to why many customers are experiencing amazing results from The Gold Solution. Even those customers who did not respond to other products like chondroitin, Glucosamine or MSM, are seeing positive results.

Who should take The Gold Solution®?
Colloidal Gold Naturally Supports:
People with stiff or uncomfortable joints.
Those with decreased joint mobility.
Individuals needing support with memory, focus and concentration.
Those with poor energy levels.
If you are experiencing stiff or uncomfortable joints, we advise starting The Gold Solution® now to help maintain your joint health early.
Colloidal gold is thought to aid nerve transmission. Therefore it may also support healthy cognitive function, memory, concentration and mental focus.
Gold is a catalyst for endorphin-like hormones as well as the key antioxidant enzyme superoxide dismutase (SOD).
Suitable for the whole family:
The Gold Solution® has no known side effects, is non-toxic and has an excellent safety profile [3]. The Gold Solution® is an easy-to-drink dietary supplement and will not interfere with medication.

Colloidal Health Solutions Colloidal Gold Supports:
Joint mobility, comfort, stiffness and range of motion.
Healthy energy levels.
A sense of emotional wellbeing and calmness.
Healthy focus, concentration and memory.
Healthy mood and emotional stress.