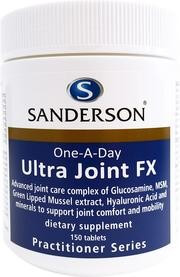 1-A-Day Ultra Joints FX 150tabs
Sanderson Ultra Joint FX is a potent joint care complex in a single daily tablet. This advanced formulation is designed to support the maintenance of healthy joint and bone tissue, and support comfort and mobility. Each Ultra Joint FX tablet contains 1500mg Glucosamine the research proven dose to support healthy joint cartilage. MSM is a natural organic sulfur compound that research suggests supports collagen production and healthy connective tissue. Green-Lipped Mussel extract has been shown in research to support joint mobility and comfort. Hyaluronic Acid is a key component in joint cartilage and the synovial fluid that surrounds it. Research indicates that supplementation supports cushioning and lubrication and joint comfort. Healthy bone tissue is well mineralized and the mineral complex in Ultra Joint FX targets key minerals that are commonly deficient in people's diets and are required for strong, healthy bones.
INGREDIENTS
Glucosamine (Glucosamine HCL 1578.95mg)
1500mg
MSM (Methylsulfonylmethane)
200mg
Green Lipped Mussel extract
100mg
Hyaluronic Acid
50mg
Zinc (Zinc citrate 12.6mg)
4mg
Manganese (Manganese Sulfate Monohydrate 6.16mg)
2mg
Boron (Borax 8.82mg)
1mg
Copper (Copper gluconate 2.38mg)
332mcg
Selenium (Selenomethionine 5.2mg)
26mcg
SUPERIOR LOW ALLERGY FORMULATION:
This formulation is free from artificial colouring, preservatives and flavours, yeast, wheat, corn, gluten, sugar, starch, nuts, dairy, lupin, mustard, celery, soy, peanuts, sesame seeds and eggs. Non-GMO, non-irradiated and BSE/TSE free. DOSAGE One tablet daily with food or as professionally prescribed. Always read the label and use as directed. If symptoms persist see your healthcare professional.
PRECAUTIONS & CONTRAINDICATIONS Glucosamine and Green-Lipped Mussel are derived from seafood, so people with shellfish sensitivity should exercise caution if taking. This is a large tablet and may not be suitable if you have difficulty swallowing.
If symptoms persist, come into the health shop for a chat or phone and make an appointment and see me as a naturopath in my clinic.
Phone: 094264455