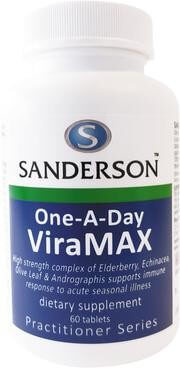 1-a-day ViraMax 30 tabs
Why choose Sanderson ViraMAX?


Sanderson ViraMAX™ is a high strength formulation combining four of the best researched herbal extracts known to support the body's immune response. This complex is designed for the supporting upper respiratory tract health, and ailments, particularly those common in winter. Research supports the combined use of Elderberry and Echinacea as an effective early intervention in seasonal illness. Olive Leaf has a long history of traditional use and modern research has identified polyphenols as the active components. Andrographis has centuries of use in traditional Indian, Chinese and Western herbal practice for supporting recovery. ViraMAX™ may be taken in early stage of ills and chills or as a daily maintenance dose.
EACH TABLET CONTAINS:
Elderberry (Sambucus nigra) 10:1 extract equivalent to dry fruit
5000mg
Olive Leaf (Olea europaea) 10:1 extract equivalent to dry herb
2500mg
Echinacea purpurea (whole herb) 10:1 extract equivalent to dry herb
2000mg
Andrographis paniculata 10: 1 extract equivalent to dry herb
1000mg
SUPERIOR LOW ALLERGY FORMULATION:
This formulation is free from cereals containing gluten, milk, crustaceans, eggs, fish, peanuts, nuts, soybeans, celery, mustard, sesame seeds, sulphur dioxide and sulphites above 10ppm, mollusc, lupin, yeasts, corn, artificial flavours, sweeteners and preservatives.
Acute Stage: 1-2 tablets per day with food for 5-7 days or as professionally prescribed. For best results start taking at the first sign of symptoms. If taking two tablets, take morning and evening. Maintenance: 1 tablet per day or as professionally prescribed. Always read the label and use as directed. If symptoms persist see your healthcare professional.
There are no known interactions with medicines. In rare cases some people with a daisy allergy may react to Echinacea. Not to be taken while pregnant or breastfeeding
If symptoms persist, come into the health shop for a chat or phone and make an appointment and see me as a naturopath in my clinic.
Phone: 094264455