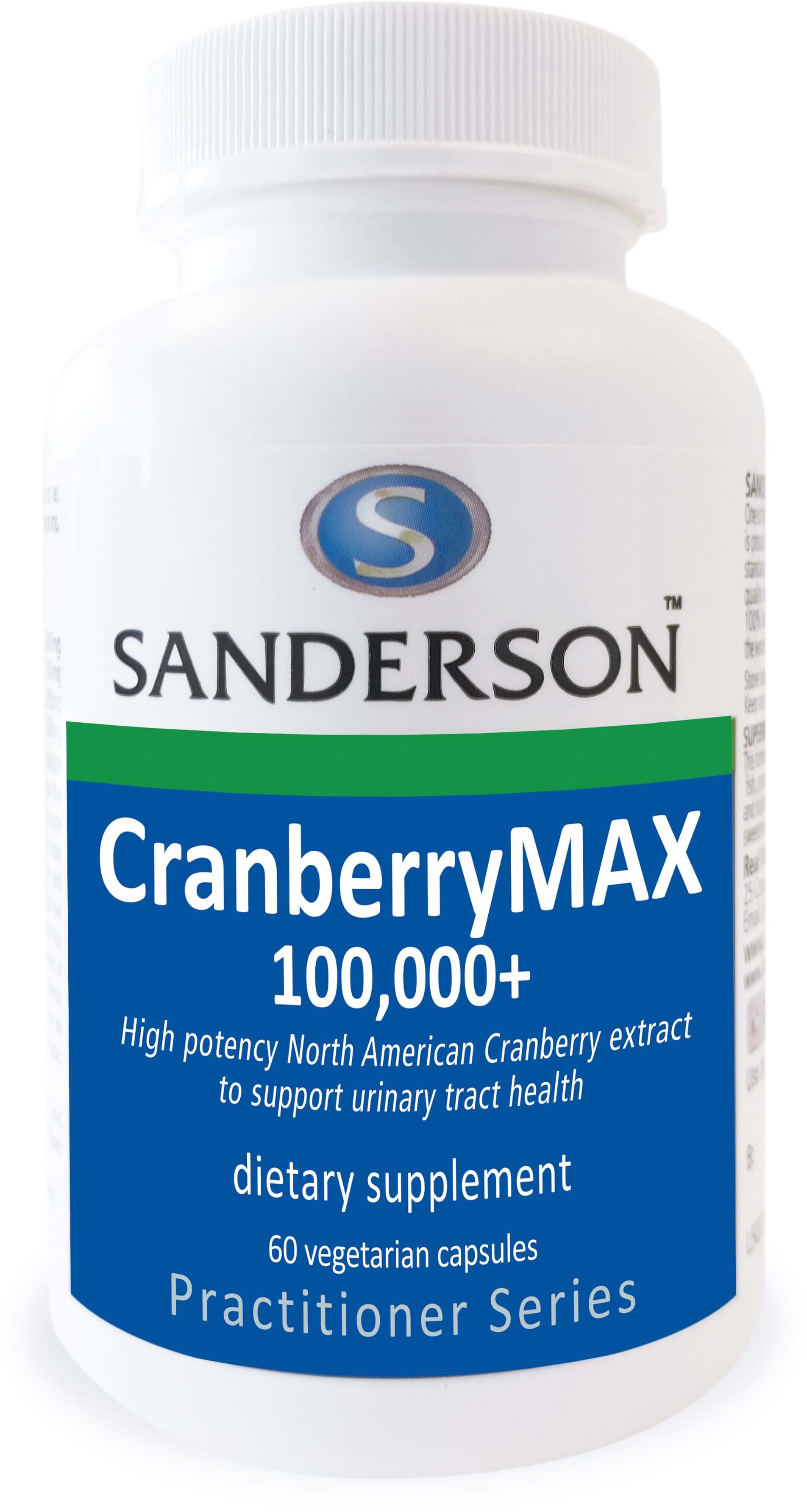 CranberryMax 100,000+ 60caps
Cranberry fruit is high in antioxidants, partly from substances called proanthocyanidins (PACs), which give cranberries their vibrant color. Research suggests that it is PACs which are responsible for Cranberry's urinary health support. Not all species of Cranberry fruit have this effect. North American Cranberry (Vaccinium macrocarpon) is the best source of PACs. Multiple studies including double blind trials have indicated that the PACs in Cranberry help the body create an environment in which bacteria are unable to adher to the lining walls of the urinary tract. Cranberry extracts are generally regarded as more effective than Cranberry juice because the PACs are at higher levels, and many Cranberry drinks contain added sugar which is counter-productive to urinary health.
Why Choose SANDERSON CranberryMAX 100,000+?
SANDERSON CranberryMAX 100,000+ is a practitioner strength 600:1 herbal extract equivalent to more than 100,000mg of fresh Cranberry fruit. The extract is standardized for levels of Proanthocyanidins to ensure consistent quality and efficacy. The very high potency extract also enables the vegetarian capsules to be small and easy to swallow.
Standardized North American Cranberry (Vaccinum macrocarpon) 600:1 extract equivalent to fresh Cranberry fruit >100,000mg
166.7mg
SUPERIOR LOW ALLERGY FORMULATION:
This formulation is free from artificial colours, flavours and preservatives and does not include ingredients derived from wheat, milk, soy, eggs, peanuts, tree nuts, fish or shellfish.

If symptoms persist or worsen see your healthcare professional. Blood in urine requires immediate attention. Do not use if you have kidney disease. Do not use with warfarin or other blood thinning medication without consulting your doctor. Do not use if you have a history of oxalate kidney stones without consulting your doctor. Only use under supervision of a health professional if pregnant or breastfeeding.
If symptoms persist, come into the health shop for a chat or phone and make an appointment and see me as a naturopath in my clinic.
Phone: 094264455