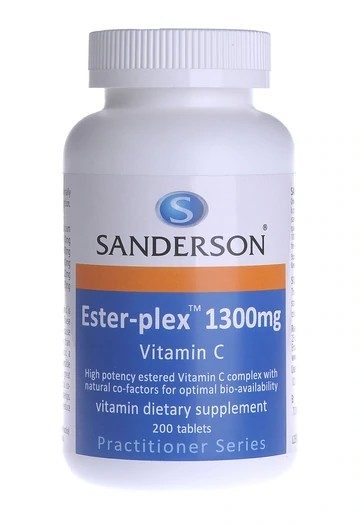 Ester-Plex Vitamin C 1300mg 100 & 200 tabs
SANDERSON™ Ester-Plex® 1300mg is a very high strength, easy to swallow vitamin C which contains the same natural metabolites as our chewable product to ensure optimum bio-availability to the body, so that the vitamin C is absorbed better than ordinary vitamin C. The vitamin C in Ester-Plex® is also buffered to reduce the chance of gastric upset. Ester-Plex® 1300mg also contains the natural fruit co-factors rich in vitamin C including Acerola Cherry, Citrus Bioflavanoids, Rosehips and Camu Camu. Vitamin C is not made in the body and has to be taken in food or supplements. SANDERSON™ Ester-Plex® is a potent immune support, especially during winter; it is also an effective antioxidant, and may be beneficial as a support in recovery from injury or at times of stress when the need for vitamin C increases.
Vitamin C with metabolites as Ascorbic Acid, Sodium Ascorbate & Calcium L-Threonate
1140mg
Camu Camu powder
10mg
Acerola (Malpighia punicifolia) dried fruit
100mg
Citrus Bioflavonoids
20mg
Rosehips (Rosacanina) dried fruit powder
30mg
SUPERIOR LOW ALLERGY FORMULATION:
This formulation is free from artificial colouring, preservatives and flavours, yeast, wheat, corn, gluten, sugar, starch, nuts, dairy, lupin, mustard, celery, soy, peanuts, sesame seeds and eggs. Non-GMO, non-irradiated and BSE/TSE free. Adults 1-2 tablets daily or as professionally prescribed. Preferably taken with food for increased absorption. Always read the label and use as directed. If symptoms persist see your healthcare professional.
Contraindications: None known.
If symptoms persist, come into the health shop for a chat or phone and make an appointment and see me as a naturopath in my clinic.
Phone: 094264455