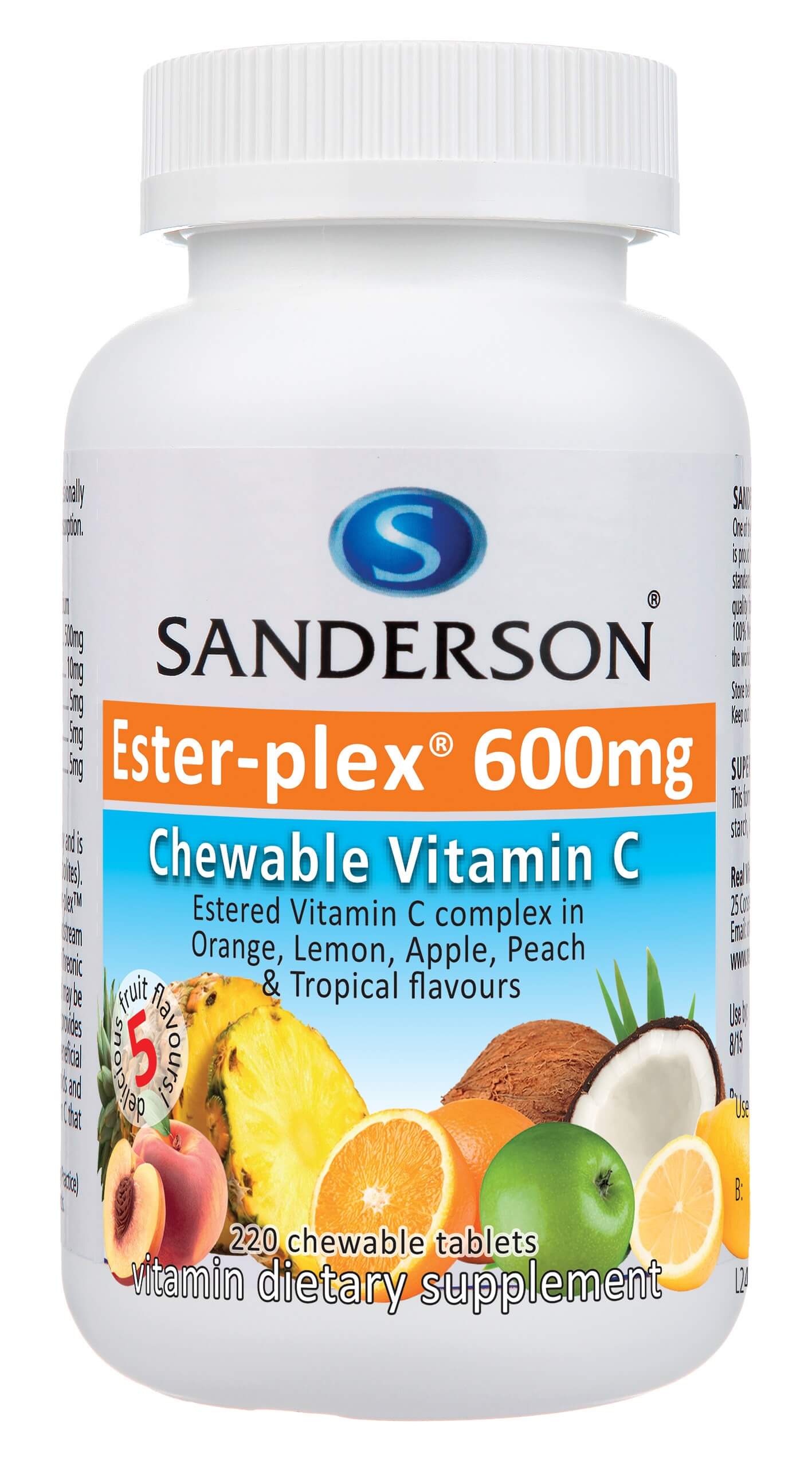 Ester-plex Vitamin C 600mg 5 Fruit Assorted chewable 220tabs
Sanderson Ester-plex Vitamin C 600mg 5 Fruits Chewable Tablets 220
Bored with orange or blackcurrant flavoured vitamin C? Try new Sanderson Ester- plex 600mg 5 fruit flavours mix! Crisp Apple, Juicy Peach, Bitter Lemon, Sweet Orange and Tropical Punch – pick a different flavour sensation everytime! SANDERSON® Ester-Plex® 600mg high strength chewable vitamin C complex contains natural metabolites to ensure optimum bio-availability to the body, so that the vitamin C is absorbed better than ordinary vitamin C. The vitamin C in Ester-Plex® is also buffered to reduce the chance of gastric upset. Ester-Plex®contains natural fruit co-factors rich in vitamin C including Acerola Cherry, Citrus Bioflavanoids, Rosehips and Camu Camu. Vitamin C is not made in the body and has to be taken in food or supplements. SANDERSON® Ester-Plex® is a potent immune support, especially during winter; it is also an effective antioxidant, and may be beneficial as a support in recovery from injury or at times of stress when the need for vitamin C increases.
Features & Benefits:
The SANDERSON® range of Ester-plex® Vitamin C products features only estered vitamin C for superior bio-availability and absorption.
Ester-plex® uses natural flavours and natural sweeteners – sucrose, maltodextrin, stevioside & sorbitol.
SANDERSON® Ester-Plex® contains no artificial flavours or preservatives; and is a low allergy formulation free from lactose, dairy, yeast, wheat, gluten, fish, corn and starch.
Ester-plex® Vitamin C is a complex that also includes natural co-factors rich in vitamin C and it is a buffered vitamin C to reduce the risk of gastric upset.
Camu Camu is a South American fruit from the Amazon with an extraordinarily high vitamin C content; it is also rich in flavonoids and amino acids serine, valine, and leucine. It is a potent immune support and mood balancer.
Rose hips are high in vitamin C and also contain the antioxidant lycopene.
A single Acerola cherry has 65 times more vitamin C than a orange and is second only to Camu camu in tems of natural vitamin C content.
SANDERSON® Ester-plex® vitamin C is available in a range of potencies and pack sizes offering outstanding value for money.
Active Ingredients: EACH TABLET CONTAINS: 600mg
Vitamin C with metabolites as Ascorbic Acid, Calcium & Sodium Ascorbate 575mg Camu Camu powder 10mg Acerola (Malpighia punicifolia) dried fruit 5mg Citrus Bioflavonoids 5mg Rosehips (Rosacanina) dried fruit powder 5mg
If symptoms persist, come into the health shop for a chat or phone and make an appointment and see me as a naturopath in my clinic.
Phone: 094264455