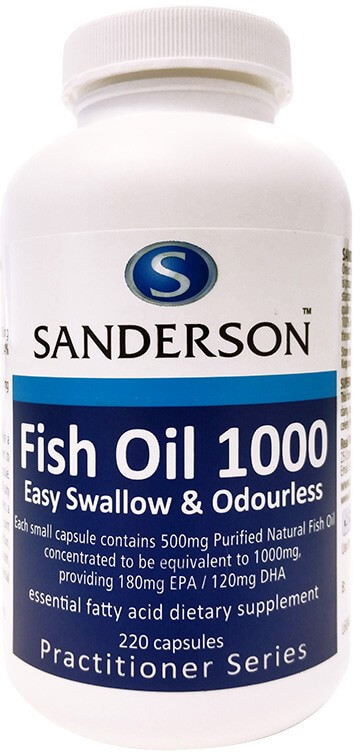 Fish Oil 1000-180 EPA/240 DHA (500mg conc.) 220caps
SANDERSON™ Fish Oil 1000 is a high quality, value for money source of Omega 3. This concentrated fish oil delivers the international standard analysis of 300mg Omega 3 providing 180mg EPA (Eicosapentaenoic Acid) and 120mg DHA (Docosahexaenoic Acid) in a tiny, easy swallow 500mg softgel. The remarkable marine Omega 3 fatty acids in fish oil have been shown to support a healthy heart and circulation, joint comfort and mobility, as well as normal brain function, vision, healthy skin, blood and general cell health. Anyone not eating fish regularly is advised to supplement with Omega 3.


The fish oil in this SANDERSON™ product is derived from a number of wild caught cold water species from a sustainably managed Pacific fishery.
INGREDIENTS
| | |
| --- | --- |
| Purified Natural Fish Oil | 500mg |
| Supplying Omega 3 Polyunsaturates | 300mg |
| Eicosapentanoic Acid (EPA) | 180mg |
| Docosahexaenoic Acid (DHA) | 120mg |
| Vitamin E (dl-alpha Tocopherol) | 1mg |
SUPERIOR LOW ALLERGY FORMULATION:
This formulation is free from artificial colouring, preservatives and flavours, yeast, wheat, corn, gluten, sugar, starch, nuts, dairy, lupin, mustard, celery, soy, peanuts, sesame seeds and eggs. Non-GMO, non-irradiated and BSE/TSE free. DOSAGE 1-3 capsules daily with food or as professionally prescribed. Always read the label and use as directed. If symptoms persist see your healthcare professional. PRECAUTIONS & CONTRAINDICATIONS