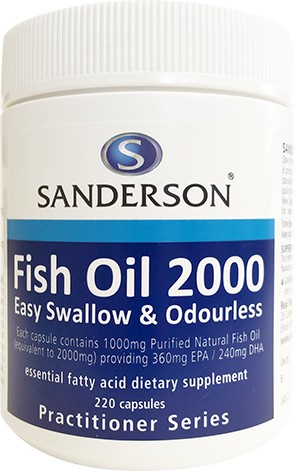 Fish Oil 2000 -360 EPA/240 DHA (1000mg conc.) 220caps
Many so called high strength fish oil products are actually just a bigger capsule – its enough to make you choke. SANDERSON Fish Oil 2000 has all the concentrated EPA and DHA of 2000mg, but in an easy to swallow 1000mg softgel capsule; ideal for people taking higher doses on regular basis.


The fish oil in this SANDERSON™ product is derived from a number of wild caught, cold water species from a sustainably managed Pacific resource.


SANDERSON™ Fish Oil 2000 supports cardio-vascular health, joint comfort and mobility, healthy brain function, mental balance and acuity, and vision; supports the maintenance of healthy skin condition.
INGREDIENTS
Purified Natural Fish Oil
100mg
Supplying Omega 3 Polyunsaturates
600mg
Eicosapentanoic Acid (EPA)
360mg
Docosahexaenoic Acid (DHA)
240mg
Vitamin E (dl-alpha Tocopherol)
1mg
SUPERIOR LOW ALLERGY FORMULATION:
This formulation is free from artificial colouring, preservatives and flavours, yeast, wheat, corn, gluten, sugar, starch, nuts, dairy, lupin, mustard, celery, soy, peanuts, sesame seeds and eggs. Non-GMO, non-irradiated and BSE/TSE free. DOSAGE General health: 1-2 capsules per day. Heart, circulation & brain health: 3 capsules per day. Joint health: up to 5 capsules per day. Or as professionally prescribed. Take with food. Always read the label and use as directed. If symptoms persist see your healthcare professional. PRECAUTIONS & CONTRAINDICATIONS