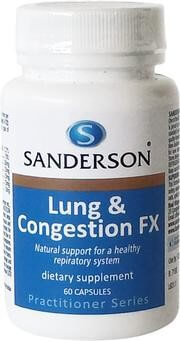 Lung & Congestion FX 60caps
Environmental pollution, traffic fumes, smog, cigarette smoke, allergens etc., all can take a toll on the lungs and upper respiratory tract.
SANDERSON Lung & Congestion FX supports mucous drainage and the immune response, and provides potent antioxidants to resist the effects of oxidative stress caused by the free radicals present in air pollutants. Ginger supports the elimination of air pollutants, congestion, and supports blood flow to the lungs. Irish Moss (seaweed) is a lung tonic that soothes mucous membranes, and supports pulmonary and bronchial health. Kelp supports the immune response, soothes the respiratory tract and the elimination of toxins. Quercetin is included as a potent antioxidant to counteract free radical damage and support the immune response. Bromelain supports health mucous membranes. Superoxide Dismutase (SOD) enzyme and vitamin C provide antioxidant protection from pollution-born free radicals.

INGREDIENTS
Bromelain
3,000,000 FCCPU
Vegetarian Superoxide Dismutase (SOD)
70iu
Ginger (rhizome) extract (5% gingerols)
50mg
Quercetin
25mg
Irsih Moss (Chondrus crispus) algae
25mg
Kelp (Ascophyllum modosum) algae
25mg
Vitamin C (Ascorbic acid)
10mg
SUPERIOR LOW ALLERGY FORMULATION
This formulation is free from This formulation is free from milk, soy, eggs, peanuts, mustard, celery, sesame, fish, tree nuts, shellfish, gluten, wheat, rye, barley, oats, spelt, kamut DOSAGE Adults: Take one capsule as needed, up to 3 times per day or as professionally prescribed. Child Dosage (Ages 5-12): Take 1-2 capsules per day; or add powder from capsule to juice if child cannot swallow capsules. Always read the label and use as directed. If symptoms persist see your healthcare professional. PRECAUTIONS & CONTRAINDICATIONS None known