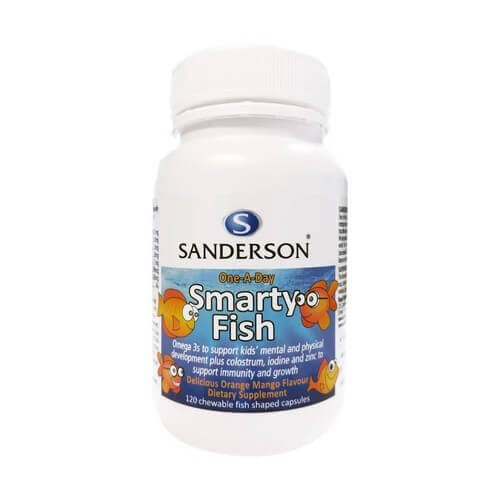 Smarty Fish Omega3 plus Colostrum, Iodine & Zinc 120caps
Smart Fish Omega 3 plus Colostrum, Iodine & Z


Key Features & Benefits:
Delicious Orange Mango flavour kids WILL like! NO fishy taste.
Chewable fish-shape capsules
One-a-day Convenience
658.7mg Fish with 200mg Omega 3
More functional EPA 120mg vs 80mg DHA
Colostrum (20% IgG) for immunity and growth factors
Iodine & Zinc for mental & physical development
Chew 1 Smarty Fish per day with food or as professionally prescribed. Supervise children at all times to avoid choking. Always read the label and use as directed. If symptoms persist see your healthcare professional.
EACH CHEWABLE CAPSULE CONTAINS:
Natural Fish Oil

658.7mg
Providing Omega 3
200mg
Eicosapentaenoic Acid (EPA)
120mg
Docosahexaenoic Acid (DHA)
80mg
Colostrum (20% IgG)
57.15mg
Iodine
299mcg
Zinc
260mcg
Vitamin E (antioxidant)
4iu
SUPERIOR LOW ALLERGY FORMULATION:
This formulation is free from cereals containing gluten, crustaceans, eggs, peanuts, nuts, celery, mustard, sesame seeds, sulphur dioxide and sulphites above 10ppm, mollusk, lupin, yeasts and corn.